If you're not familiar with my lifestyle situation as of yet, I'm always proud to 'announce' I'm a Bondi girl at heart and always have been ever since I made the move to Australia almost 5 years ago now.
Yes, Bondi Beach is super touristy and can be a real headache with traffic on a Sunday, but there are so many other amazing things that will always triumph all these things, especially if you're a local who knows the in's & out's of Bondi, especially all the amazing eateries we're so lucky to have at our doorstep. Which leads me to this little write-up of some of my favourite eateries in Bondi – Breakfast, Lunch & Dinner. Read on and enjoy! (Watch your drooling).
Breakfast:
Sprout Cafe (Gould St, Bondi Beach):
This one is one of the 'newer' kids on the block in Bondi. Sprout cafe is open for breakfast and dinner 7 days a week and is putting a great twist of Japanese bits & pieces into their menu. There are some great, different, breakfast dishes on the menu here and they tend to do create new 'specials' weekly. It's also super well-priced. Think $12-$18 AUD for a breakfast that will keep you full until lunch.
My favorite breakfast dish here is, hands down, the Omelet with smoked salmon, dill goats cheese, kipfler potatoes and sprouts. I literally dream of this breakfast!
Their coconut bircher is also great, and will easily satisfy a 'sweet' tooth without the sugar-hit as they use honey to sweeten the bircher, and NOT sugar.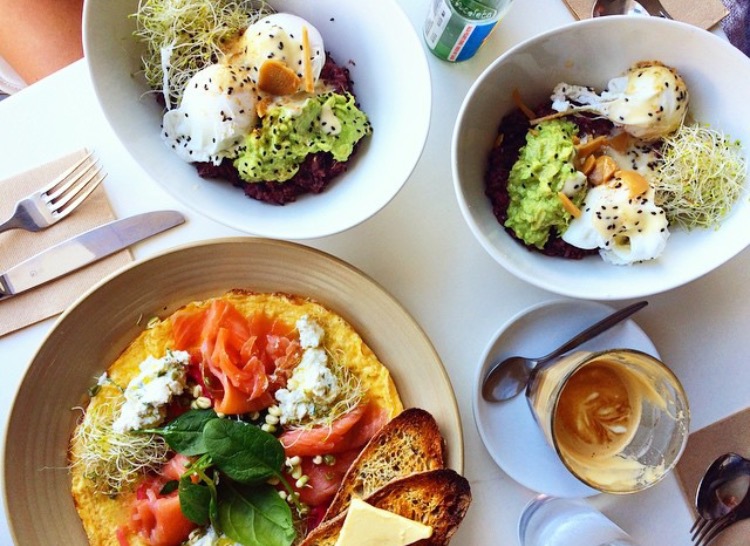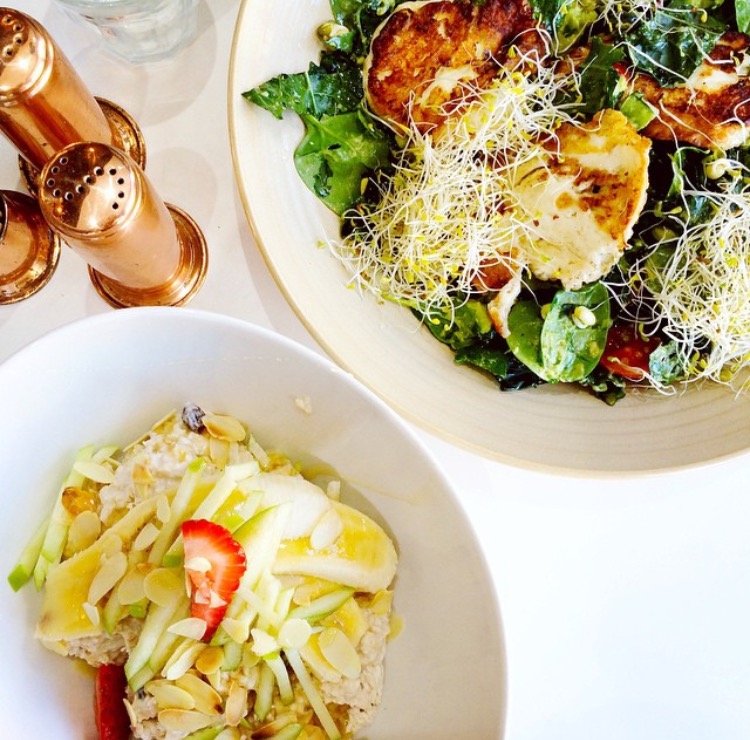 Earth Food Store (Gould St, Bondi Beach):
This one is really my LOCAL. I go here almost every single day. Earth Food Store is both a little cafe serving up only vegetarian and vegan breakfast and lunch and a shop where you can get all your favorite organic produce. The people working there really make the place – it's so nice to walk in there and have a chat with them every single day, and not having to say what you want as they already know your order by heart (hello comfort zone!).
My favourite breakfast there would be something super basic: The soft-boiled eggies w/ fresh avocado, tomato, goats cheese, olive oil and a serve of fresh bread from Sonoma. I also always get a buffin. Now, you may ask: "What's a buffin?" A buffin is basically a muffin made out of buckwheat (Get it? Buckwheat – buffin?) It's sugar-free, dairy-free, gluten-free goodness and suitable for vegans, too. It's a very distinct texture but once you're hooked, you're HOOKED! $17 for the breakfast and $4.95 for a buffin. A little bit pricey, but it's all organic, fresh produce and I don't mind paying more for quality.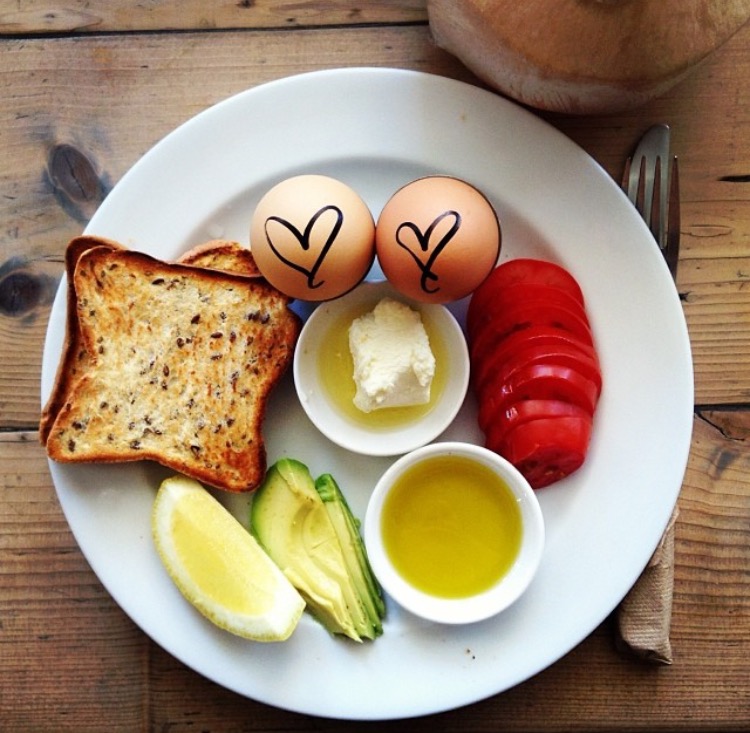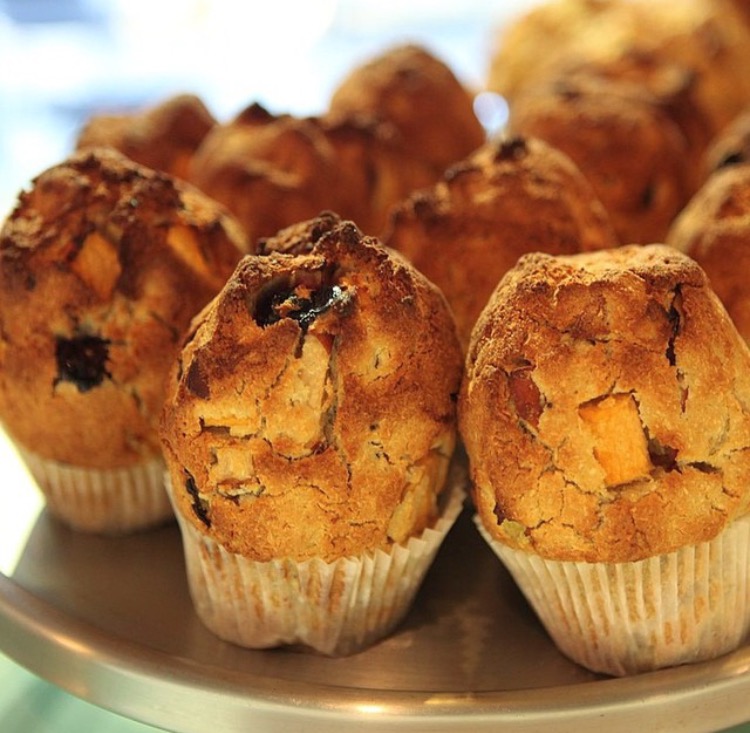 Bondi Picnic (Hall St, Bondi Beach):
Bondi Picnic has a cute little outdoor space and fresh interiors. It's perfect for sipping on a delicious chai and having my favorite pick on their breakfast menu: Smashed avocado and peas on sourdough with poached eggs, watercress and fresh lemon. Top it off with cracked pepper & fresh sea salt and then get on your way people-watching for a few hours. It's the perfect morning right there. Their breakfast and lunch menu is really well priced. They also have a take on hashbrowns with poached eggs that's absolutely epic!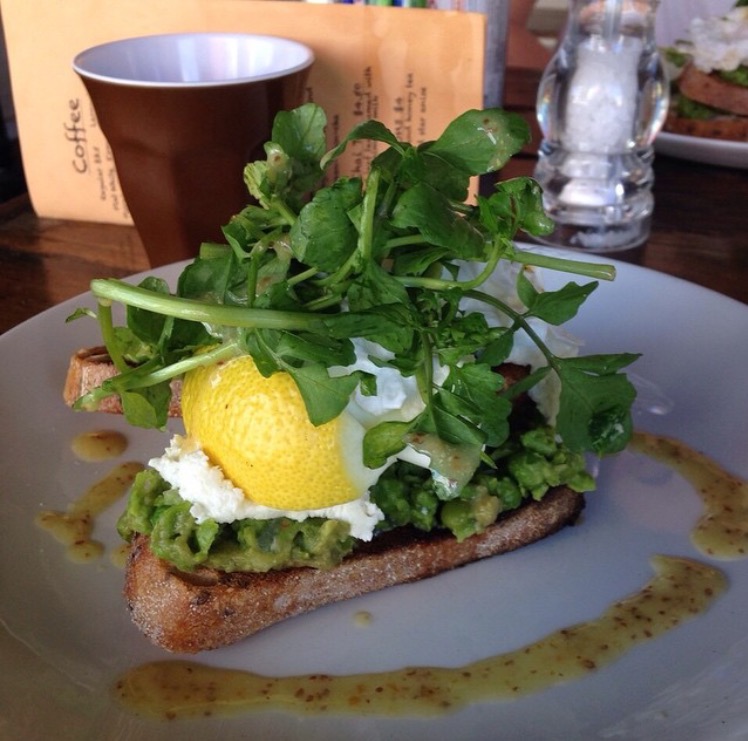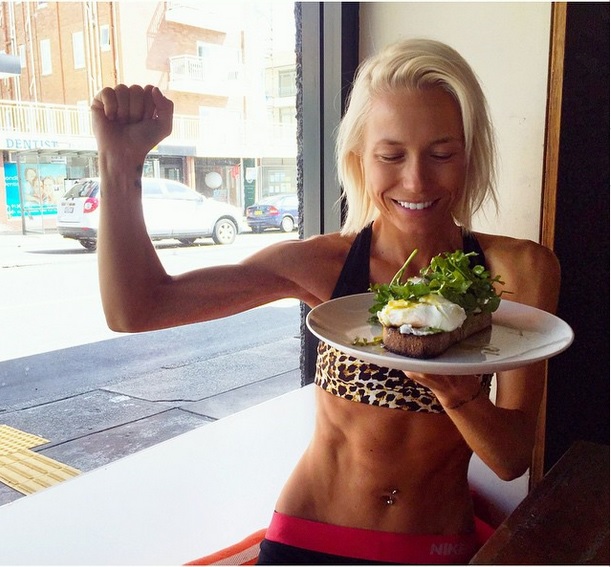 Lunch:
Porch & Parlour (Ramsgate Ave, North Bondi):
Porch & Parlour or just Porch as we'd like to call it, is a true favorite among Bondi locals.True to it's Hipster Roots it serves up dishes like 'Green Breaky Bowls', 'Green Pea Pancakes and raw salads complete with the best coffee from Will & Co and smoothies going around the Eastern suburbs.
Porch is definitely a winner on all three fronts: Breaky, lunch AND dinner – but my favorite dish is especially on their lunchtime menu: The Raw Cosmic salad with a side-serve of seared ocean trout. The trout is just seared to perfection – each and every SINGLE time. Visiting Porch you know you're going to get consistently good food on every visit. Well priced for a Raw Cosmic salad at $17, but be prepared to add a further $7.50 for a side of Ocean Trout. Breakfast is around $15-$20 without drinks.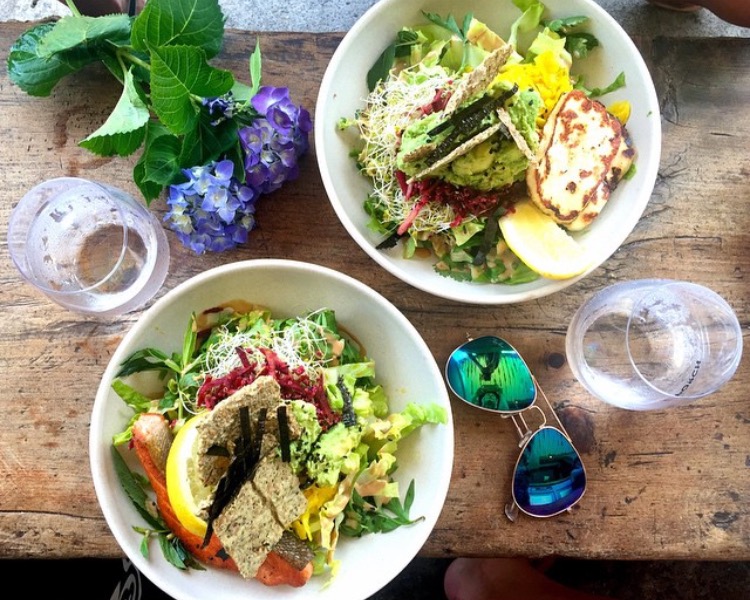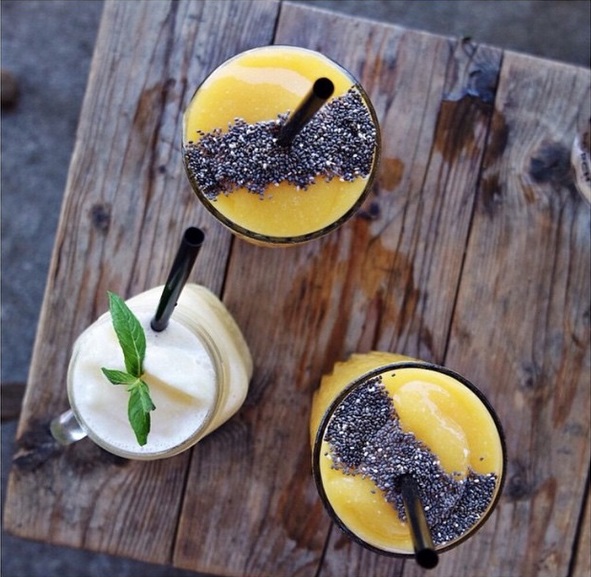 Banana Blossom (Jaques Ave, Bondi Beach):
If you don't know Bondi, you won't really know this little place. It's located on Jacques Avenue, and will be easily missed unless you venture down the street. It's a newcomer to the Bondi Beach lunchtime scene, already having two venues in Manly & Mona Vale. Banana Blossom serves up delicious (BIG!) salads that are a combination of Asian flavors with fresh local ingredients to bring you a load of TASTY.
My favorite salad on the menu is the 'Buddha's Delight' consisting of Tofu, Green Papaya, Pineapple, Chinese Cabbage & Thai Herbs with crispy egg noodles & a sweet tamarind dressing. YUM!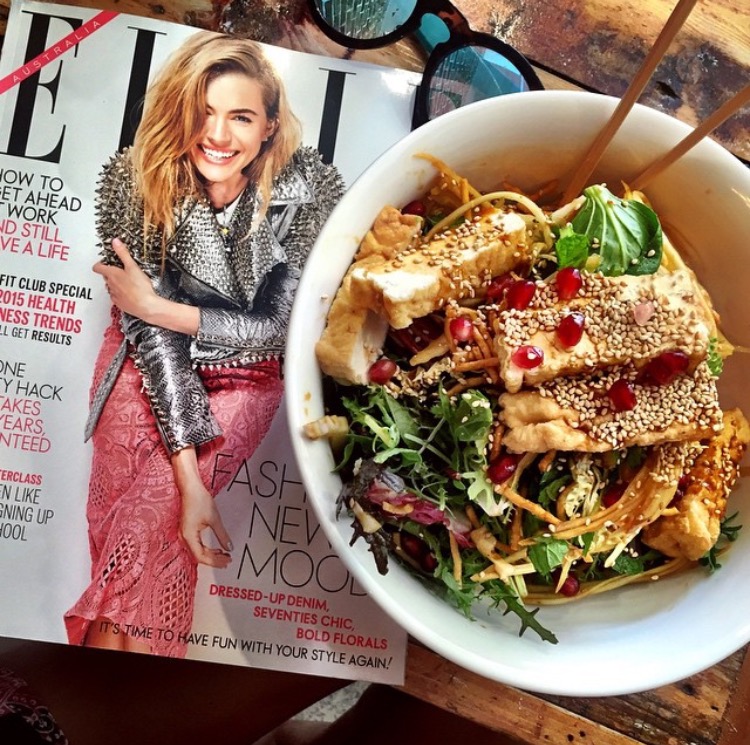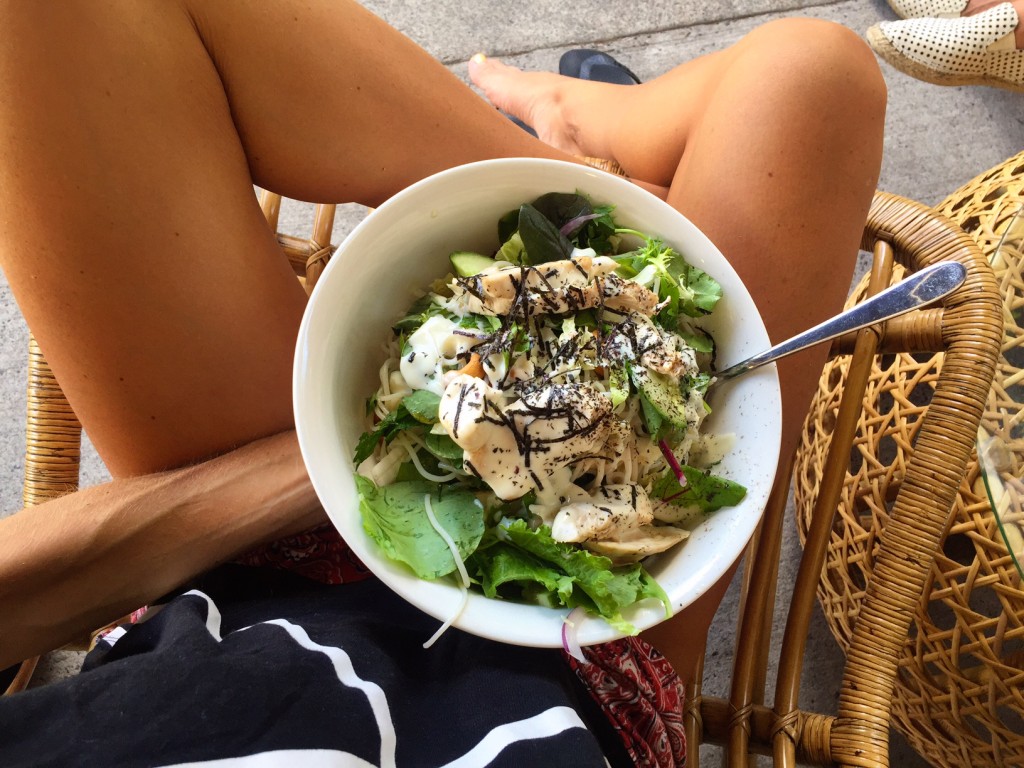 Lox Stock & Barrel (Glenayr Ave, Bondi Beach):
Lox Stock & Barrel is the cozy little deli diner brother/sister of popular breaky spot 'Brown Sugar' just around the corner on Curlewis St. in Bondi. Lox Stock is drawing their inspiration from European cuisine with the promise of a 'Healthy & delicious' meal every single time. I can vouch for that! Get here before 12pm if you're going for lunch or do a late lunch – unless you like queueing – this is a massively popular breakfast and lunch spot – with good reason! Portions are deliciously satisfying and the price-point is very fair: $15 for sandwiches and $17 for salads – be prepared to pay $7 extra for protein on your salad though!
I absolutely love and adore the salads here, and the dressings that go with them are THE bomb! My favorite will have to be the Cauliflower salad with avocado, chickpeas, corn, radish, fennel, almond & rocket with a dressing of orange, chilli & ginger topped with a poached egg = SPOT ON!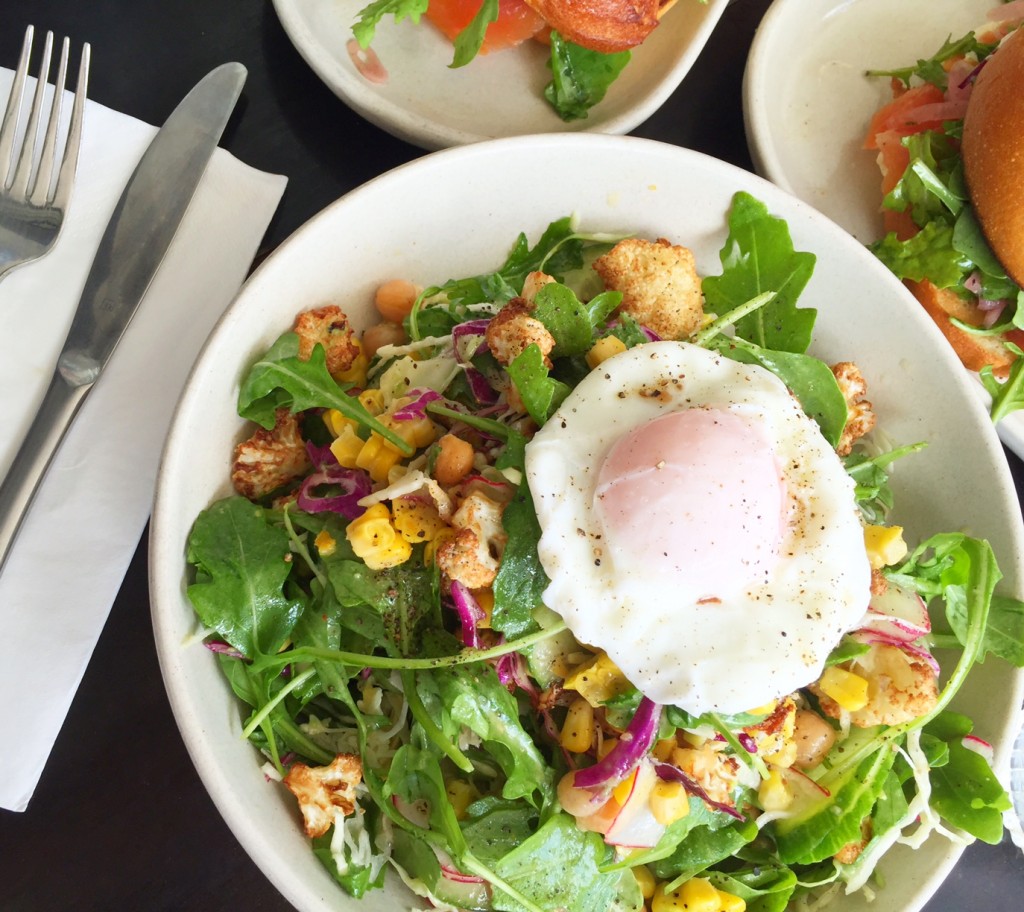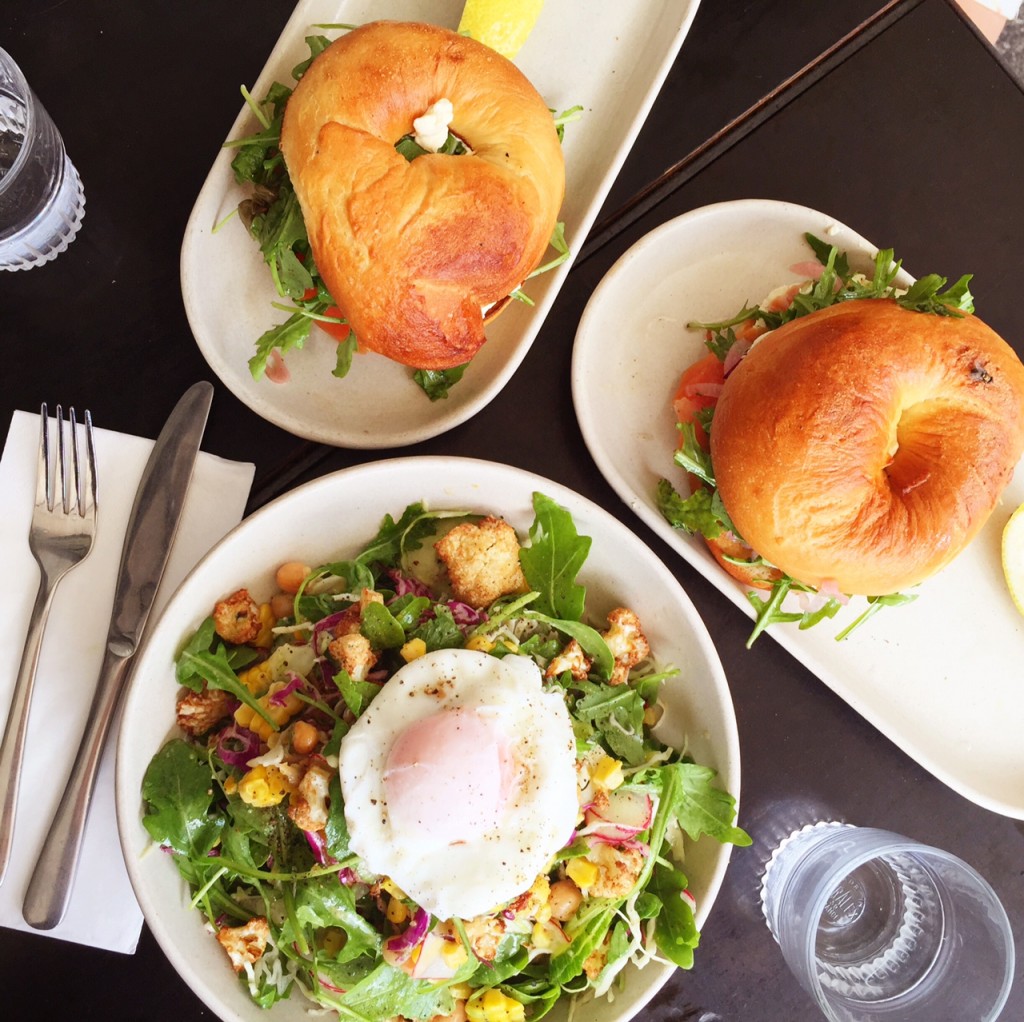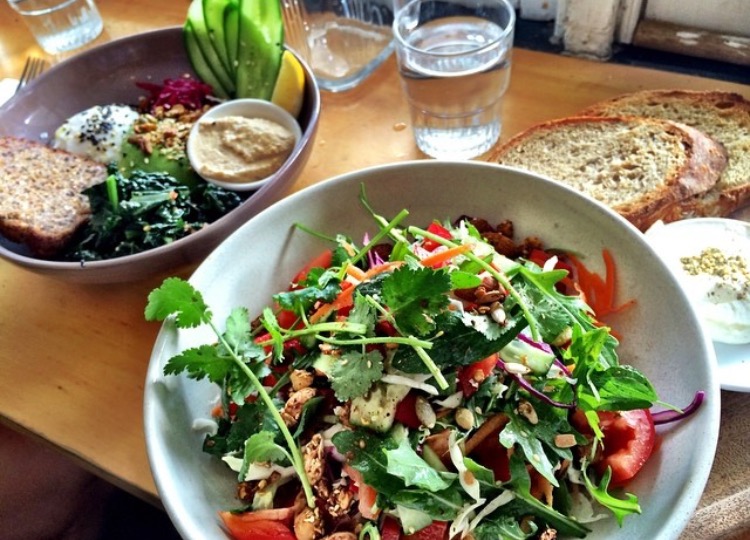 Bondi Harvest (The Eastern, Bondi Junction):
Bondi Harvest is the 'offline' part of the online hit of the same name 'Bondi Harvest' created by Guy & Mark, who also happens to be mates of mine. Bondi Harvest is all about sourcing local produce and creating out of this world seasonal dishes that will make your tastebuds tingle.
The lunch menu consists of delicious sandwiches and salads which leads me to this: BROCCOLI SALAD! Please, if you're headed to Bondi Harvest and want an out of this world Broccoli experience you have got to choose this salad. Have it with a side-serve of protein like the jerk chicken or fresh fish. Deliciously healthy and fresh!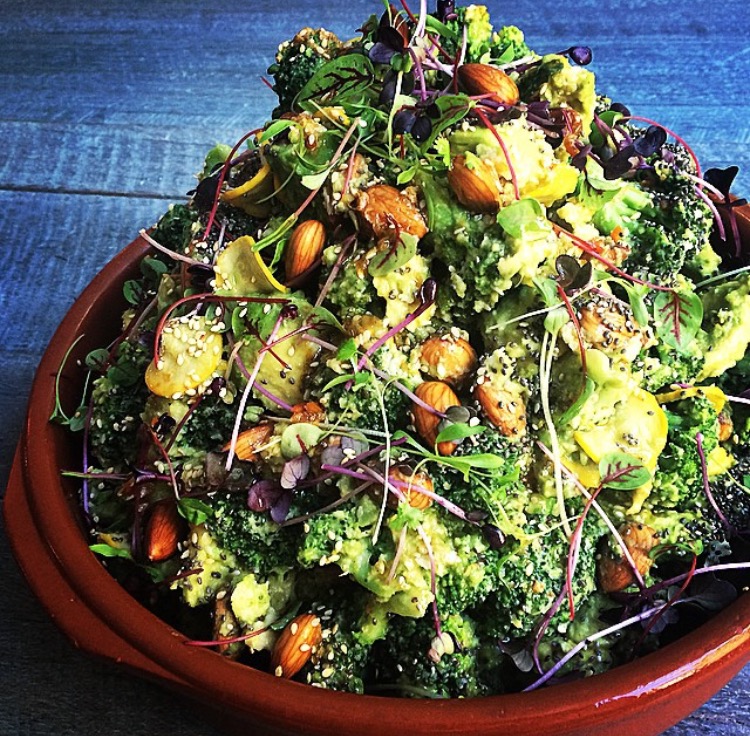 Dinner
Bondi Hardware (Hall St, Bondi Beach):
This little gem – originally an old hardware store turned into one of Bondi's most popular venues serves up deliciously rustic and incredibly tasty food along with your favorite drinks whether it'd be non-alcoholic or alcoholic – mostly the latter though. Ben & Hamo are the great minds behind Applejack Hospitality which now consists of 4 venues: The Botanist (Kirribilli), So Cal (Neutral Bay), The Butler (Pott's Point) and of course, Bondi Hardware.
Bondi Hardware holds a very special place in my heart. I've had some of my very best and significant times and memories here, and for that, I will always cherish this place. The food just makes it even better. My favorite pieces from the well-rounded dinner menu will have to be items like the Slow Roast Lamb Salad (Seriously, MUST-EAT!), Sweet Potato Fries, Baked Artichoke dip, Pan-fried Haloumi, Pearl Barley Risotto, Quinoa & Rosemary Polenta Bites and many, many more. Bondi Hardware changes their menu to fit the seasons, but the classics will always survive (HELLO LAMB SALAD!).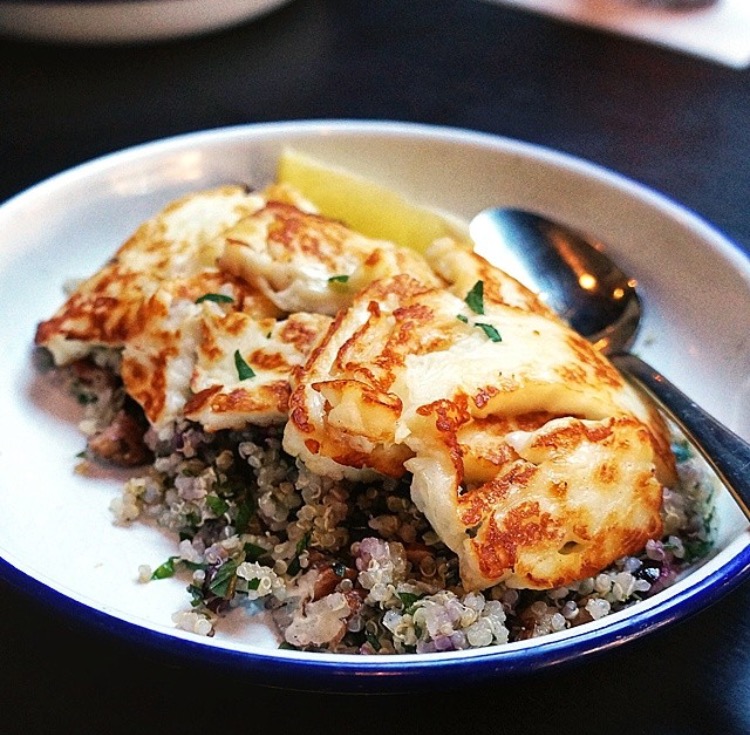 Bangkok Bites (Hall St, Bondi Beach):
Like Thai? Like big flavors and BIG portions? Then this is your go-to for your Thai-fix. Bangkok Bites is notorious street-food when it's best. It's fresh, flavorsome hearty food that will make your heart skip a beat. It's loud, it's noisy, it's flames & wok's & pan's flying, and it's the greatest place to have dinner on a weekend night to people-watch and keep up with what's going down on the Bondi-scene. Perfect place for dinner with friends or date-nights – whatever takes your fancy.
My favorite dishes here are ALL the noodle-dishes. Noodle, Noodle – I looooove noodles. But some other winners are most certainly also the Papaya Pok Pok salad with Soft-shell Crab, Pineapple Fried Rice, Beautiful Bangkok Noodle and the Massaman Lamb Shanks with Coconut Rice. There's something for everyone – spicy or not. This is a must-try Thai place! It doesn't look too pretty, but it's darn delicious!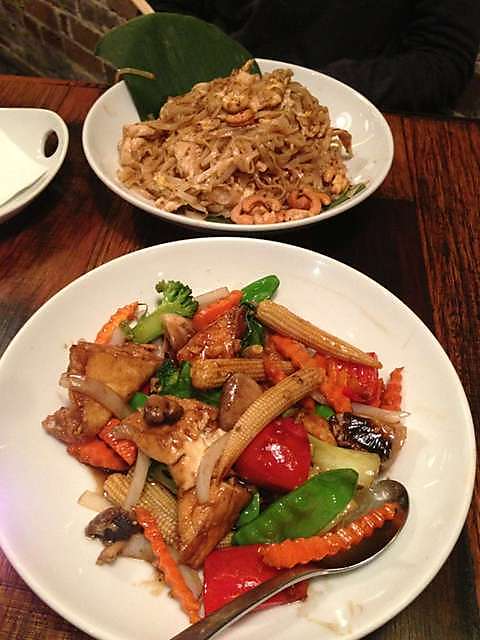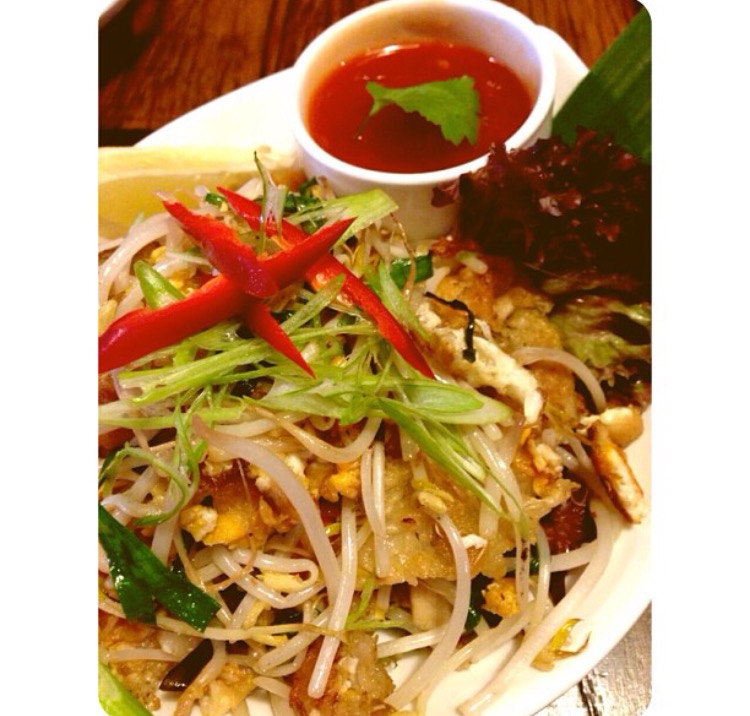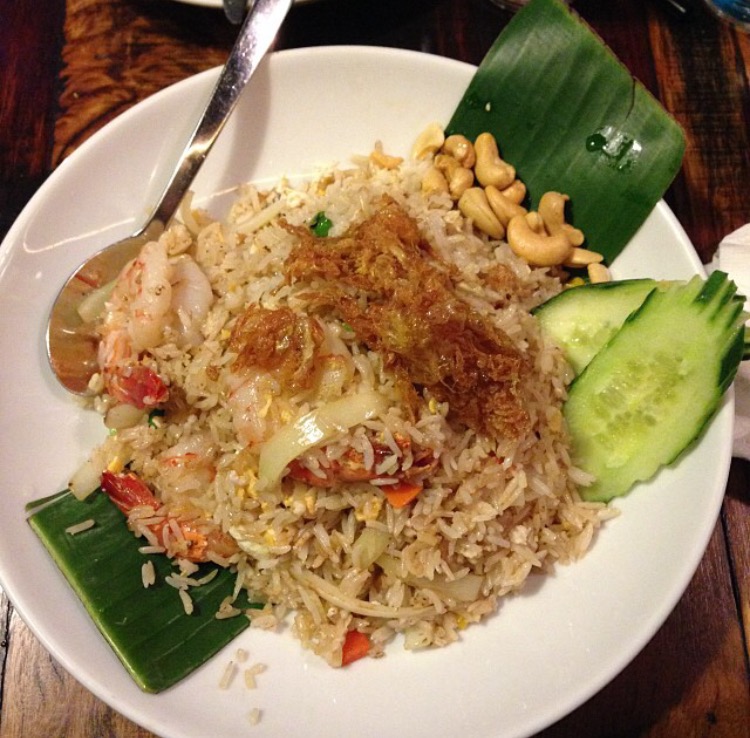 Bondi's Best (Campbell Pde, North Bondi):
Overlooking North Bondi is this little hidden gem – it's basically a little 'hole' in the wall, but don't let that fool you. This is fish at it's very best & freshest at incredibly GOOD prices. This place is perfect for a lazy Sunday late arvo/night date-night to either eat in the little place (it doesn't seat many) or to get take-away and head down to the Grassy Knoll at North Bondi to watch the sunset whilst you feast on some deliciously cooked or raw, fresh fish.
I love the Aburi Salmon salad with Seaweed, Iceberg & Wafu Sesame Dressing or the Crispy Skin Salmon w/ sides like steamed greens and sweet potato chips or just a 'plain old' Beer Battered Fish & Chips. Delicious!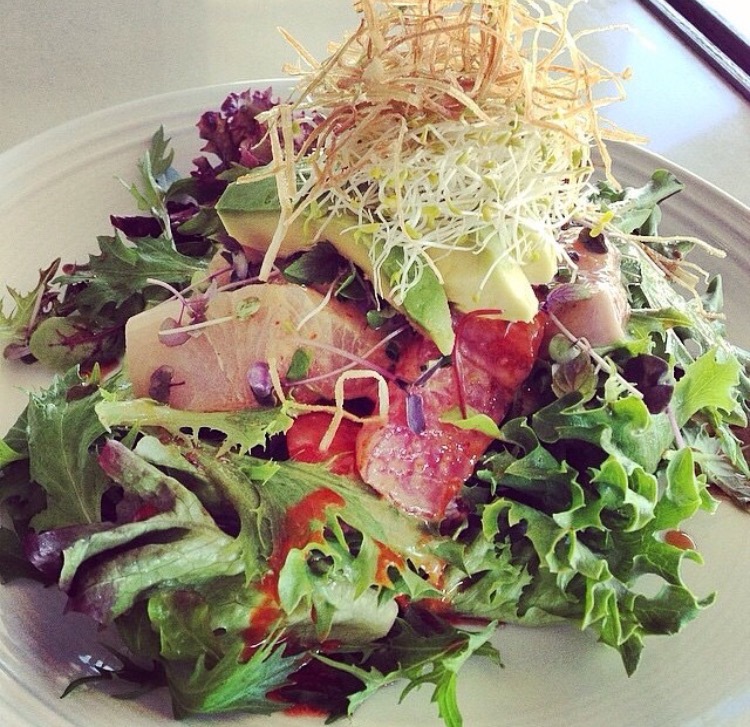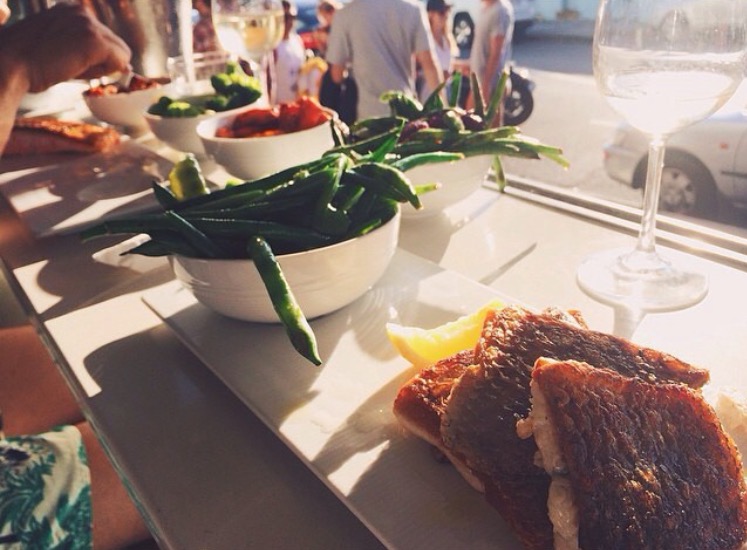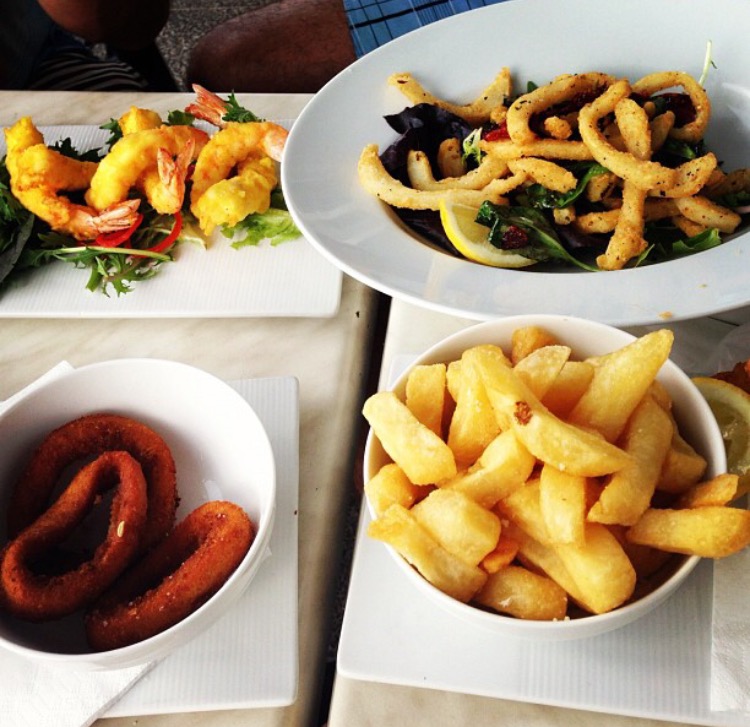 North Bondi Fish (Ramsgate Ave, North Bondi)
North Bondi Fish or NBF is, what most people already know, the brainchild behind Chef extraordinaire Matt Moran and his business partner Peter Sullivan. It's no wonder North Bondi Fish is a hit with amazing sister restaurants like Chiswick and Aria. Located only steps from the white sand of North Bondi Beach this place is pretty much picture perfect with a knock-out view at sunset.
This menu is, obviously, all about FISH. The freshest fish you can find. Oysters, prawns, whole snappers and fish burgers are among the menu items along with fun desserts like 'adult' popsicles (alcoholic). NBF also has an extensive cocktail and an impressive wine-list if you don't mind an enjoyable glass of wine to go with your delicious dinner.
I also had the pleasure of celebrating my 3 month cancer remission-'anniversary' here. The staff was so superb, they really made my night absolutely unforgettable.
A few of my favorite menu items are: Whiting Fillet Tacos, Broad Bean, Pea & Fresh Mint Dip, Whole Roasted Market Fish, Quinoa, Zucchini & Onion Salad, Blue Swimmer Crab Linguine and their mango & salted coconut popsicle. Mmm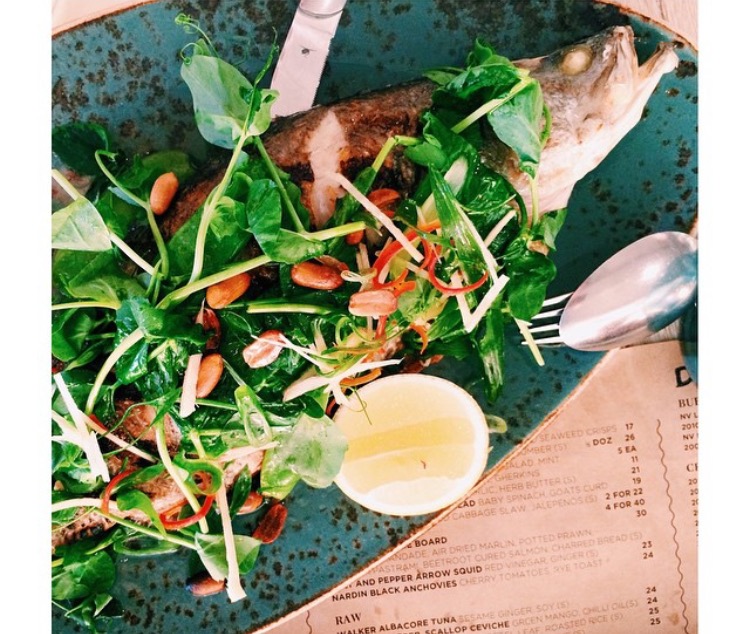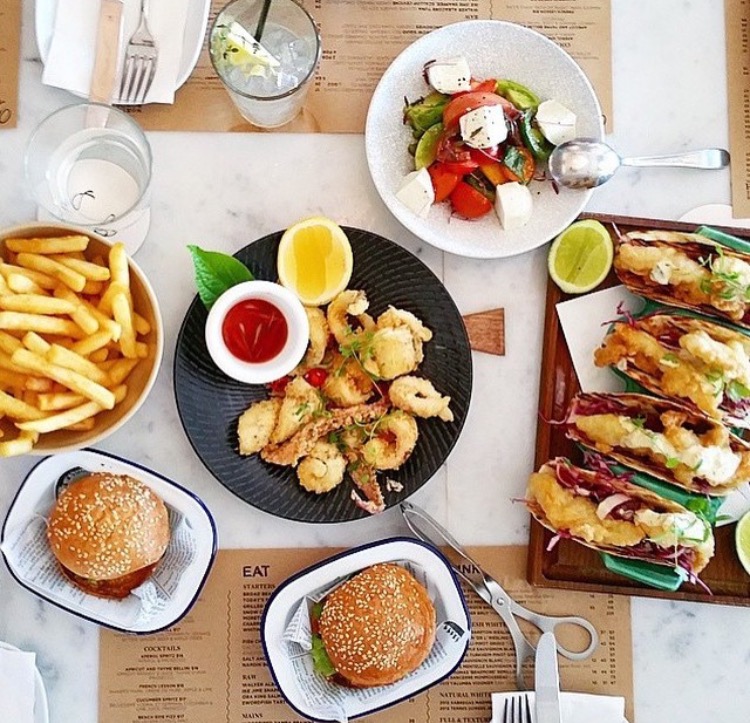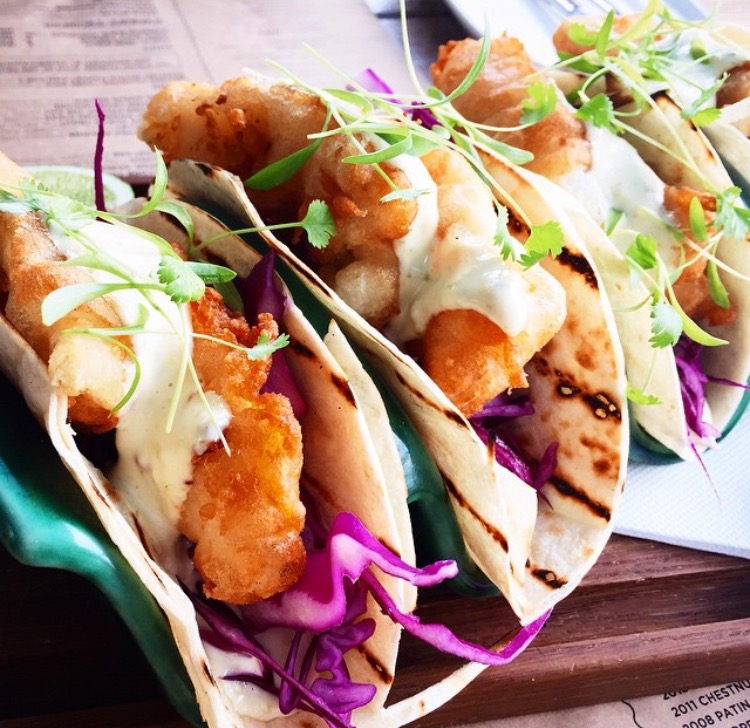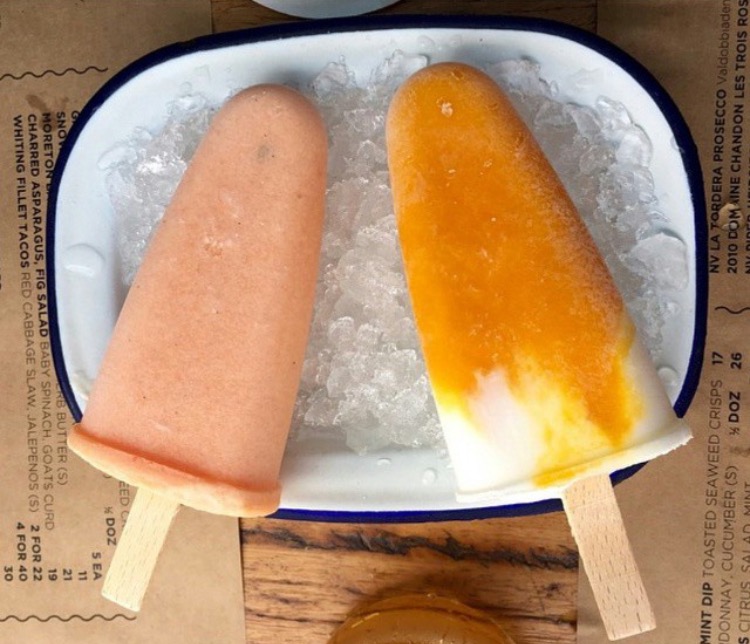 Hope you liked my little wrap up of some of my favorite eateries in Bondi. It won't be the last – there's MANY more places I want to tell you about :)
Caroline x