Welcome to the 2nd wonderful and incredibly admirable woman in my Inspirational Women Series that I have embarked on to share with you all the great stories about these women along with their tips & tricks on how to survive in this world – each within their own field.
Sally O'neil or just Sal has, in a short period of time, become one of my very dear and close friends. We have 'known of each other' for years, as we both reside in Sydney, are both in the health world, and both dap in the field of 'bloggers & influencers', so when we finally started connecting 'properly', I knew Sally was a keeper.. But in many more ways than I could ever imagine.
Sally is not only an incredibly talented business-woman, entrepreneur, author, photographer and influencer and founder of The Fit Foodie  – she's also a girl with the kindest, most giving heart, and incredibly loyal friend, and the biggest supporter of (personally, my own) dreams.
Hence why I think Sally has so many facets to her that many more people should know about, and she has some great advice for you to take away..
Happy reading x
Sally O'neil
Founder of The Fit Foodie, Fit Mixes & Author of Love, Move, Eat.
Tell us a bit about yourself and your background?
I'm a health food blogger, Author, photographer in stylist based in Sydney. Originally from the UK about 6 years ago, I moved to Australia to enjoy a little more sunshine. After switching from a diet of processed foods in the UK to a more fresh, balanced approach in Australia, I lost 14 kilos and started to share my recipes online.
How did The Fit Foodie brand start and what idea was it born from?
The recipes were written online as a place for my mum to find them. She'd send me some recipes to get me started with cooking in Australia (so I didn't starve!!) and I recreated them with better, local ingredients. My then-boyfriend set up a website for me to send those recipes back to her without thousands of emails bouncing back and forth between us.
You work full-time for yourself and on The Fit Foodie business – have you always done so, or when did you take the jump?
I jumped to full-time blogging back in July 2014. Whilst I was at work as a project manager, all I could think about was recipe development and what blog post to write next. I knew I would never forgive myself if I didn't give it a shot, so I worked day and night to make it happen. Lots of tears and tantrums ensued, but I backed myself every step of the way. I never lost sight of what I was trying to achieve and I was living out my dream. When you want something enough, the universe conspires to bring it to you.
You're originally from England; was it hard moving to Australia and the transition? Do you feel like The Fit Foodie would've been as successful if you were still living in England?
I definitely don't think I would have had the motivation to be as fit and health-driven back in England, which definitely would have affected the development of the blog. I'm from the north where accessible health food is a bit more difficult, and cacao is sold only in specialty health food stores. The transition was actually really easy for me, because Australia was better in every way. The sunshine, the food, the outdoor lifestyle. I love it all.
What is the hardest part about working for yourself?
Finding a balance between working enough and not working too much. When there's no office hours, and you're so passionate about what you do, it can be really hard to know when to switch off. Sometimes I do get burnt-out, and then take a few days off to re-coup.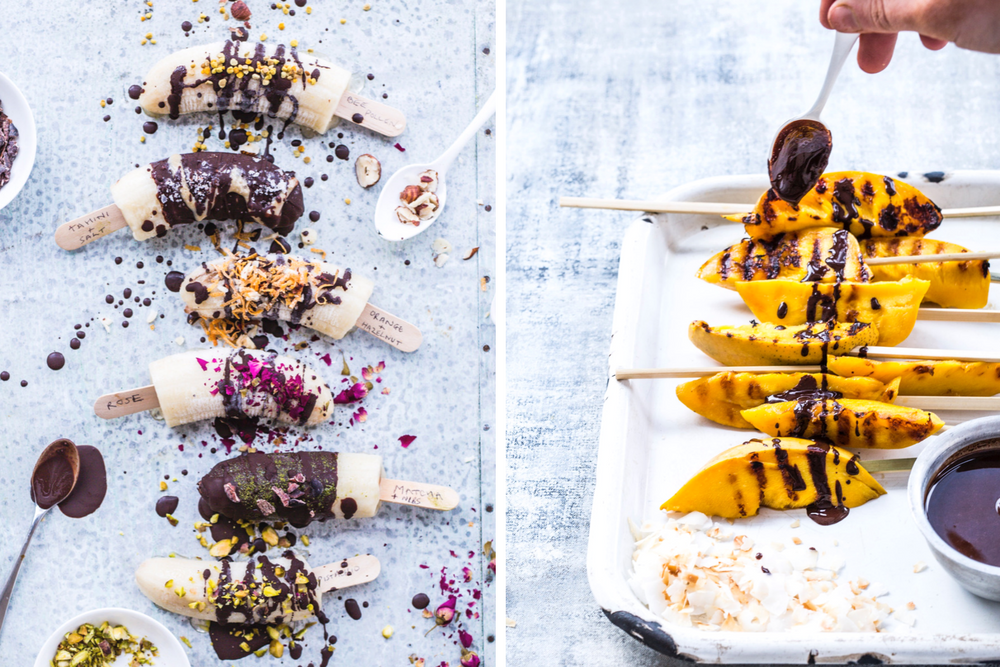 What are your top 3 tips for anyone wanting to work for themselves?
1. Only work in an industry you are passionate about. You might have the best business idea for an app, but if technology isn't your passion, that's going to show at some point.
2. Surround yourself with likeminded entrepreneurs and businesses. A support network who can help advise you on the many intricacies of running a business is imperative to success. Expect to impart some of your wisdom, too, in exchange.
3. Don't get hung up on your business being perfect before launch. There are so many things you are supposed to learn along the way, and until you launch you just won't know what they are. The sooner you get your service or product out there, the sooner you can be earning money and refining what it is that you do.
You're all about health and a shining example of it yourself; how do you like to eat and exercise throughout the week?
I workout 6 days a week. At the moment I'm focused on weight training at the gym – I love the feeling of getting stronger. It also works well for me because I have a few knee injuries that are hard to manage with cardio. I always workout first thing in the morning when I have the focus and motivation. For food, I stick to simple foods like fish, salad, veggies and the occasional dark chocolate. Eating that way gives me a clear mind and makes me feel great.
Where do you find inspiration from to create all your beautiful dishes?
Pinterest is a massive inspiration for me – though I do find I'm not super productive when I get lost down that rabbit hole. I also have a an entire bookshelf of cookbooks that offer plenty of inspo – I generally look at the unhealthier, indulgent dishes and re-work them to include all my favourite whole foods.
You're also a keen photographer and you shoot all your content yourself; are you self-taught or can you give an insight into how to become a better photographer?
I've never taken a photography course, but there's definitely something in the adage 'practice makes perfect'. I still take 30 photos to get the perfect one, but that's probably a third of what I used to take! I watched how the pro's were doing it on Youtube and spent hours playing with my editing techniques in Lightroom. I studied food images for hours on Pinterest looking at composition and plating, and whilst I still have so much to learn with styling and shooting, I cooked, styled, photographed and edited my entire cookbook without assistance. If I can do that, anyone can.
Becoming a better photographer comes with time, patience and a lot of trial and error. I know that's not the quick and sexy answer that most people are looking for, but it's kinda true. Scroll back to my Instagram even just a year ago and you'll see a HUGE difference in the quality of the images. Just experiment a lot with props and finding your own style, and don't underestimate free online tutorials or videos – they can be super helpful.
What is next for The Fit Foodie or Sally O'neil?
In January, I enrolled with Endeavour College in a Bachelor of Health Science majoring in Nutrition + Dietetics, so in 6 years I will be a qualified nutritionist. I'm studying part-tome to fit the degree around Fit Mixes and The Fit Foodie work, but that will be a big focus for me moving forward. I'm also working more as a food and lifestyle photographer and stylist, so am working with lots of clients on beautiful new in-store + online menus to make their food come to life!
What's the best advice you were ever given?
You have the power to achieve things beyond your wildest dreams.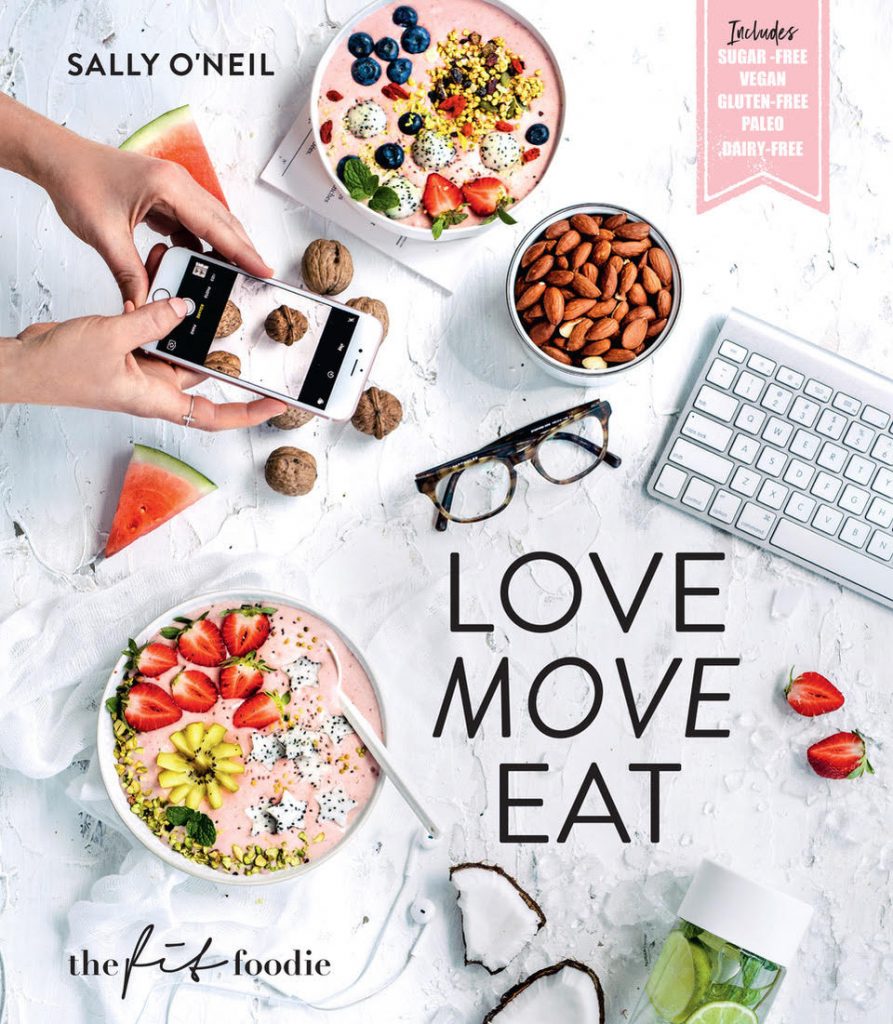 Want to follow Sally's lifestyle and keep getting inspired?
See below: