I love to read books focusing on the spiritual and self-development space and I still keep it old-school with a good paperback. I haven't upgraded to a Kindle or one of those fancy readers yet – to me, there's just something about flicking a page and feeling the gritty paper between my fingers. Seeing how far you've made it in a book and how far you have to go, also gives me a strange sensation of completeness and accomplishment.
I go through stages with reading books. Sometimes I won't pick one up for months and through other times I'll read 3 books a week. As life; it ebbs and flows in a natural rhythm. I often feel that books 'speak' to me or enters my life at just the right time when I need it to take a further step on my spiritual journey that I've embarked on.
Spirituality isn't a book, however, and nor can a 'certain level' of spirituality be reached or measured by how many books you finish about life, love, happiness, enlightenment and so on. Reading the book is one thing; the real journey starts when you put the practice into your life and start living and breathing what you are learning to be true.
And so, with these words, I have compiled a Book Recommendation list (part 1 – more to come) that holds some of my cornerstone books & practices that have supported and build my foundation for the human being I am today & the beliefs I live by every day.
Happy reading.
Caroline xx
A Course in Miracles by Helen Schucman
I have studied A Course in Miracles (otherwise referred to as ACIM) for about a year now. I have read the book once and I'm now doing the course again alongside a lesson every single day.
A Course in Miracles is a complete self-study spiritual thought system. As a three-volume curriculum consisting of a Text, Workbook for Students, and Manual for Teachers, it teaches that the way to universal love and peace—or remembering God—is by undoing guilt through forgiving others. The Course therefore focuses on the healing of relationships and making them holy. A Course in Miracles also emphasises that it is but one version of the universal curriculum, of which there are "many thousands." Consequently, even though the language of the Course is that of traditional Christianity, it expresses a multicultural, non-denominational spirituality. A Course in Miracles therefore is a universal spiritual teaching, not a religion.
This is a course in miracles. It is a required course. Only the time you take it is voluntary. Free will does not mean that you can establish the curriculum. It means only that you can elect what you want to take at a given time. The course does not aim at teaching the meaning of love, for that is beyond what can be taught. It does aim, however, at removing the blocks to the awareness of love's presence, which is your natural inheritance. The opposite of love is fear, but what is all-encompassing can have no opposite.
This is a book I'd recommend to those of you who are already well on their spiritual journey, very openminded and able to interpret and dissect lessons and learnings from Christian religion.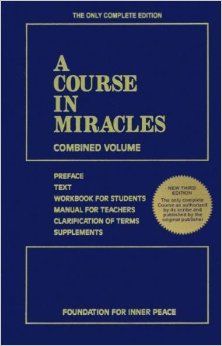 The Four Agreements; A Practical Guide to Personal Freedom by Don Miguel Ruiz
I have come across this book a multitude of times, however I have never picked it up until a few days ago when something prompted me to dig through a friends book-cupboard and it was the very first book my eyes landed on.
I completely surrendered to this book as I read it and the beautiful way Don Miguel talks about our past learnings, our patterns, the way we act upon our feelings and summarising it into how we should all strive to live this human life in order to reach total contentment, enlightenment, joy and peace within ourselves.
But it is not what I am saying that is hurting you; it is that you have wounds that I touch by what I have said. You are hurting yourself. There is no way I can take this personally.
The Four Agreements are:
1. Be Impeccable with your Word: Speak with integrity. Say only what you mean. Avoid using the Word to speak against yourself or to gossip about others. Use the power of your Word in the direction of truth and love.
2. Don't Take Anything Personally
Nothing others do is because of you. What others say and do is a projection of their own reality, their own dream. When you are immune to the opinions and actions of others, you won't be the victim of needless suffering.
3. Don't Make Assumptions
Find the courage to ask questions and to express what you really want. Communicate with others as clearly as you can to avoid misunderstandings, sadness and drama. With just this one agreement, you can completely transform your life.
4. Always Do Your Best
Your best is going to change from moment to moment; it will be different when you are healthy as opposed to sick. Under any circumstance, simply do your best, and you will avoid self-judgment, self-abuse, and regret.
Pick up this book if you're new into spirituality. It's a very easily read book and encapsulates the simple ideas of The Four Agreements provide an inspirational code for life; a personal development model, and a template for personal development, behaviour, communications and relationships.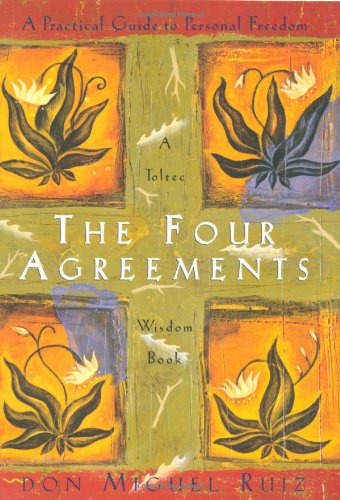 A Return to Love: Reflections on the Principles of A Course in Miracles by Marianne Williamson
I had my first encounter with Marianne Williamson when I was going through a breakup a while back. She stepped into my world at a perfect time when I was doubting love itself and whether I should continue to be as open and fragile as I'd felt like I'd been led to be in this world we are in.
This book by Marianne Williamson is the interpretation of the spiritual thought system found in A Course in Miracles and so it is a great seg-way to start reading Marianne Williamsons books as a starting-point if you have ever doubted yourself, doubted love, felt needy and vulnerable, unlovable and like the world is out to get you.
Love is what we were born with. Fear is what we learned here. The spiritual journey is the relinquishment, or unlearning, of fear and the acceptance of love back in our hearts.
Marianne Williamson reveals how we each can become a miracle worker by accepting God and by the expression of love in our daily lives. Whether psychic pain is in the area of relationships, career, or health, she shows us how love is a potent force, the key to inner peace, and how, by practicing love, we can make our own lives more fulfilling while creating a more peaceful and loving world for everyone.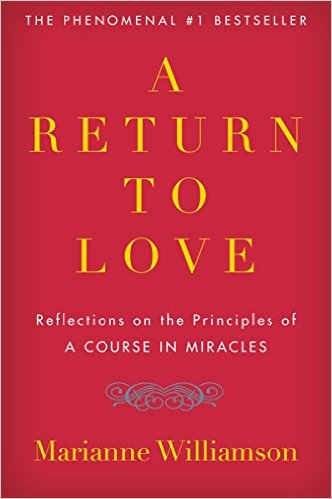 You Can Heal Your Life by Louise Hay
Most people have come across Louise Hay at some point in their life. You haven't yet? Time to. Louise Hay is amazingly eloquent with her words and always cuts through the cr*p and completely makes you feel empowered as a woman (or man). This book is from 1984 so it's certainly not a new one, however the book has been a bestseller for decades and if you pick it up, you'll instantly come to know why.
Louise Hay's key message is: "If we are willing to do the mental work, almost anything can be healed."
Life Is Really Very Simple. What We Give Out, We Get Back.

What we think about ourselves becomes the truth for us. I believe that everyone, myself included, is responsible for everything in our lives, the best and the worst. Every thought we think is creating our future. Each one of us creates our experiences by our thoughts and our feelings. The thoughts we think and the words we speak create our experiences
The key premise of the book is that because the mind and body are connected, illnesses of the body somehow have their root causes in emotional and spiritual aspects of the mind and its beliefs and thought processes. While modern medicine concerns itself with eliminating symptoms of disease in the body, using tools such as chemotherapy and other pharmaceutical drugs and various surgical techniques, LouiseHay's approach is to identify and work to resolve what she perceives as the mental root causes of disease. She believes that the causes of "dis-ease" include stress and unhealthy thought patterns and beliefs about oneself, and postulates that the most fundamental way to affect positive change in the body is to change the way we think, using tools such as "mirror work" and affirmations every single day.
Tears to Triumph: The Spiritual Journey from Suffering to Enlightenment by Marianne Williamson
Again, this book came to me when I was going through a hard time with love, however it was also a beautiful reminder that really showed me how far I've come with and within, not only relationships, but loving, honouring and respecting myself and the person I am. That I have come to a place where I live and act with love and take learnings from everything or everyone I encounter on my path in life.
The pain you are going through is not what will determine your future; your future will be determined by who you are as you go through your pain.
In Tears to Triumph, she argues that we—as a culture and as individuals—have learned to avoid facing pain. By doing so, we are neglecting the spiritual work of healing.
Instead of allowing ourselves to embrace our hurt, we numb it, medicate it, dismiss it, or otherwise divert our attention so that we never have to face it. In refusing to acknowledge our suffering, we actually prolong it and deny ourselves the opportunity for profound wisdom—ultimately limiting our personal growth and opportunity for enlightenment. Frozen by denial, we are left standing in the breech.
As Marianne makes clear, true healing and transcendence can only come when we finally face our pain and wrestle with what it has to teach us. This is book is a powerful way forward through the pain, to a deeper awareness of our feelings, our lives, and our true selves.