Are you a frequent flyer? Do you normally travel on economy class or are you an avid business class flyer? Maybe you see the benefit in paying that bit extra to upgrade to the comfort of business class where you can both work but also get a proper rest before you arrive at your end-destination?
Over the years I have become more and more of a frequent flyer, and I know the importance of being comfortable, especially on a long-distance flight. Feeling refreshed, well-rested and in good spirit when you step off that plane makes a big difference for my first few days in the foreign country I'll be spending a bit of time in.
I have chosen to fly American Airlines a fair bit over the past few years. I love their great service and kindness that is always received from staff whichever class you fly, the options of dietary requirements you are presented with and the planes are up-to-date, modern and comfortable.
Below is a review of the SYD to LAX route which I flew in April (of this year).
*Disclaimer: I paid for my own economy ticket & was lucky to be upgraded to Business by American Airlines upon arrival at SYD Airport. All views & opinions are that of my own.
American Air SYD to LAX
Plane: Boeing 777-300ER
Seat: 13J (window seat)
Layout: Middle-seats face each other on an angle (great for couples), window seats face windows for more privacy – 52 business class seats in total.
When you board, you'll be walked to your seat by a cabin attendant, who will immediately offer a beverage (champagne, perhaps?) and offer to take your carry-on luggage as well as handing out the menu. Shortly after takeoff the crew came by to take my menu-order for the length of the flight
Also, after takeoff I was offered my choice of beverage and a snack of warm nuts whilst waiting for the first course. Orange Juice all the way because alcohol dries out my skin on the flight. (Sorry!)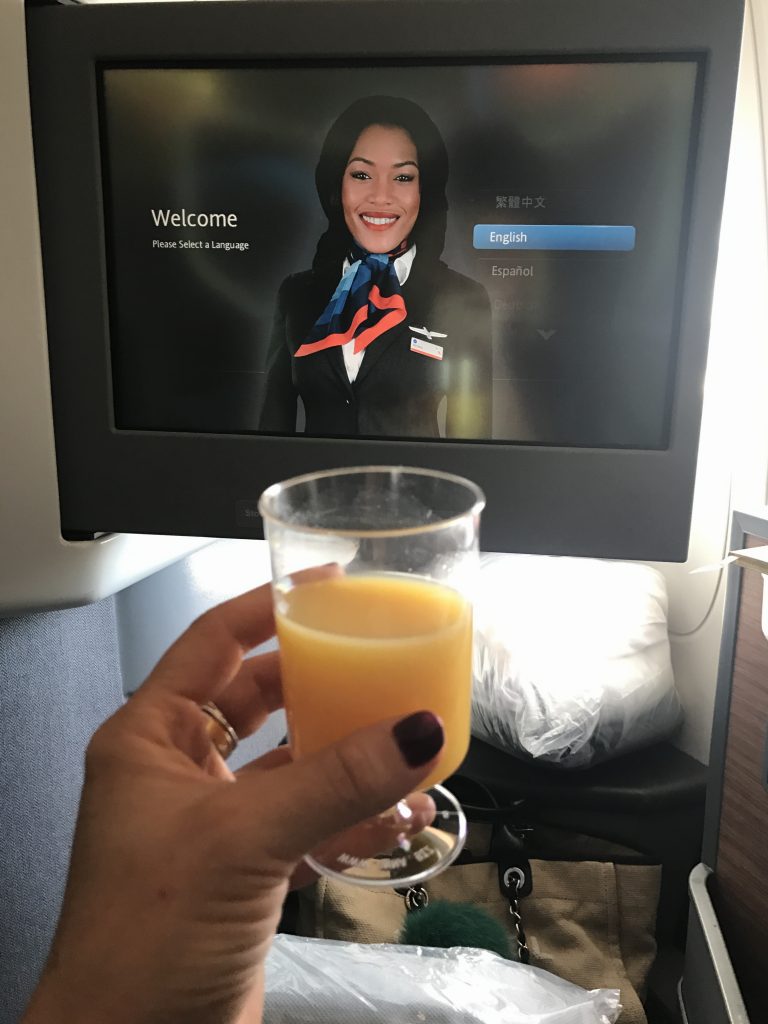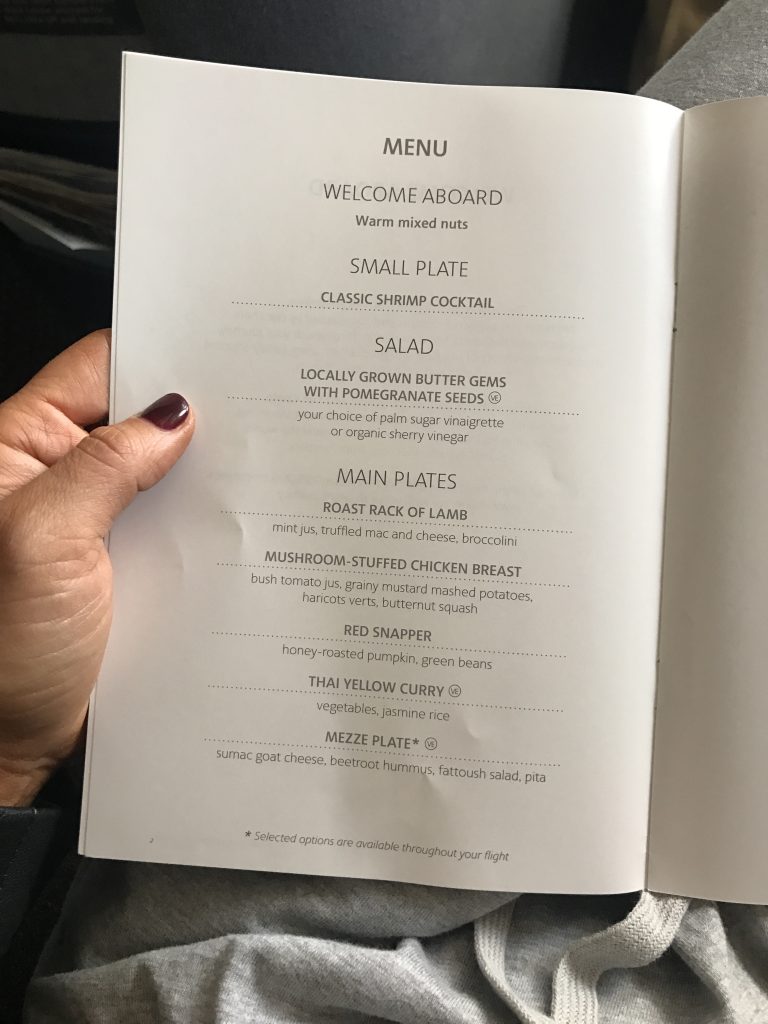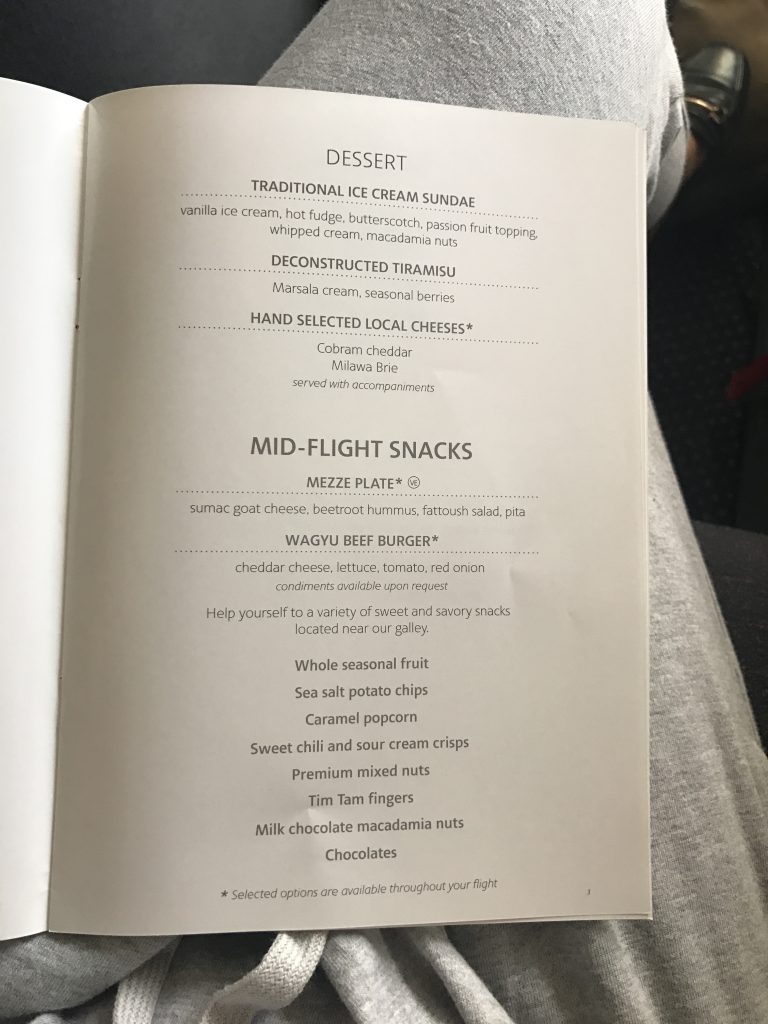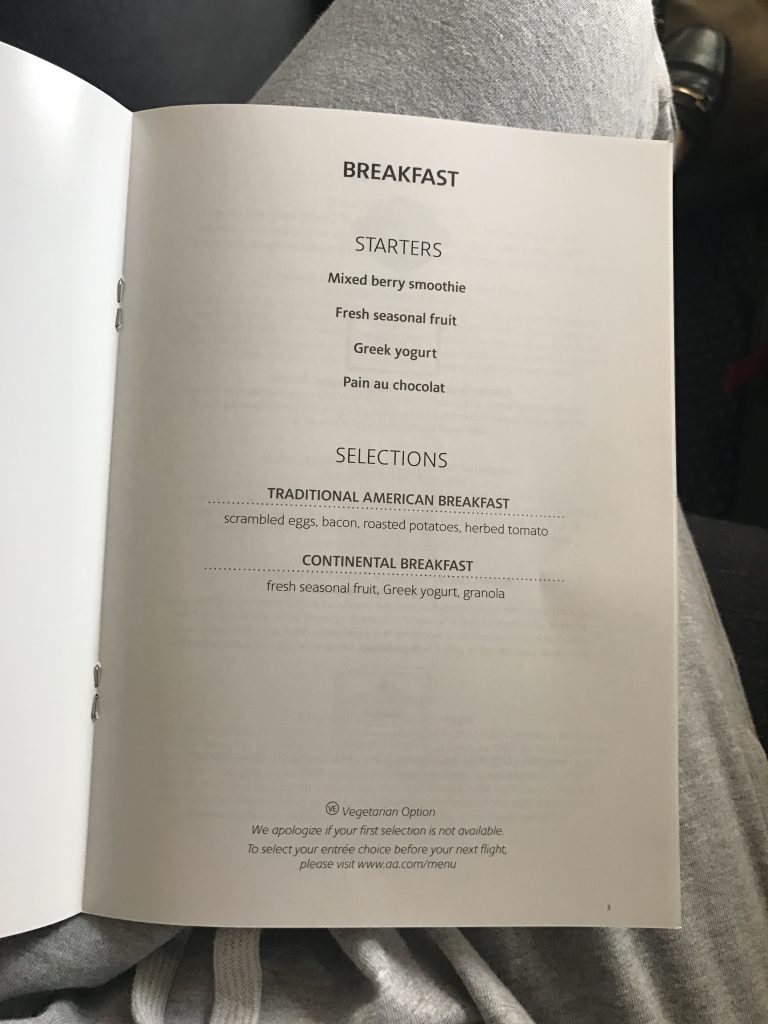 * Note: If you do have any dietary requirements you can inform AA about this prior to your flight (vegan, kosher, etc.)
I opted for the following:
Dinner: Red Snapper with honey-roasted pumpkin and green beans
Dessert: Chocolate Sundae (yeah I did!)
Breakfast: Traditional American Breakfast
Snacks: Cheese Plate & fruit
The overall quality & cook of the food was delicious. I really liked the red snapper with the vegetables and it's nice to see that airlines are starting to include many more greens instead of huge portions of animal protein.
What I love is that American Airlines try to incorporate organic produce wherever they can. Massive brownie points!
The breakfast was nice, but I found it could've been a bit more inventive on that front.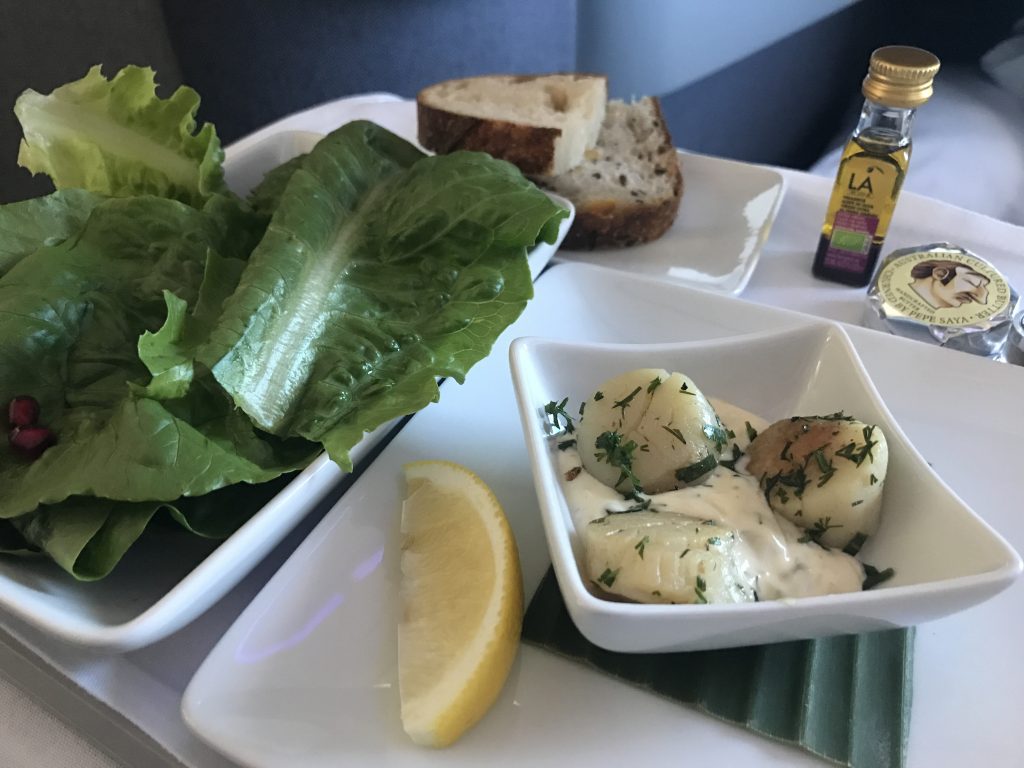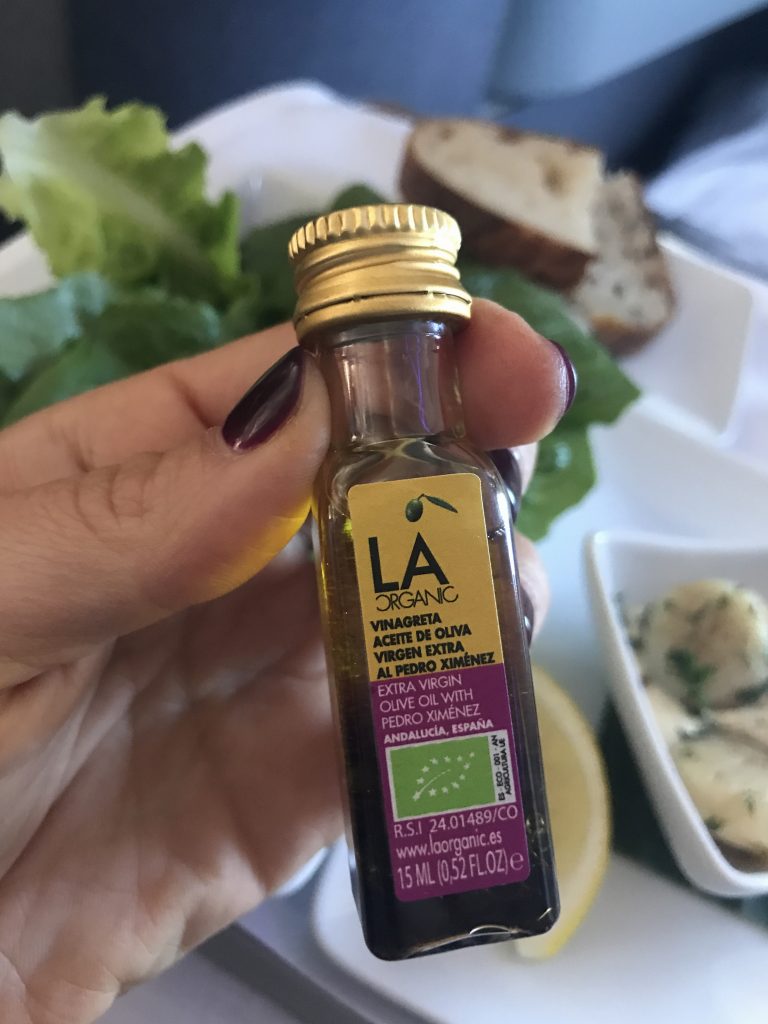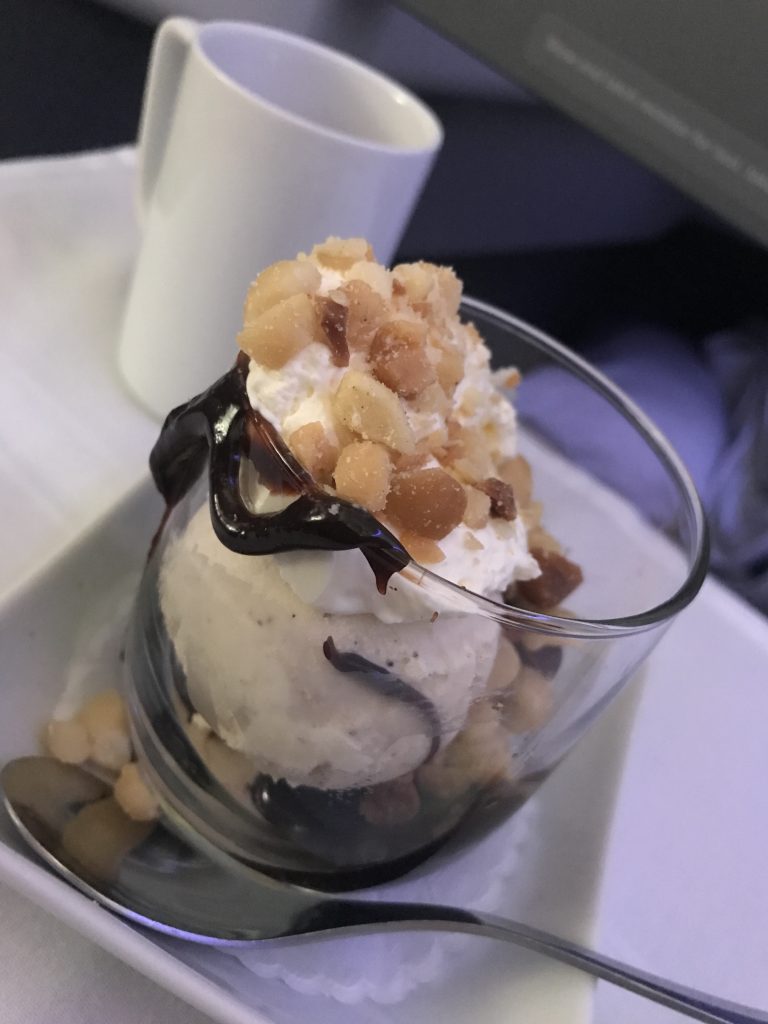 Ultimately, one of the best things about flying business class is that you get to sleep comfortably.
The seats lay completely flat and the armrest on the aisle can pop up or down, so the up position grants you a little more privacy. The pillow was soft and the blanket was nice and had good weight. The cabin temperature was pretty warm, so sleeping with the blanket was optional. Overall it was very comfortable and an excellent option for an overnight flight.
You also get PJ's handed out as you onboard the flight along with a cute little amenity kit packed with everything you need in order to keep you refreshed and for a good nights sleep.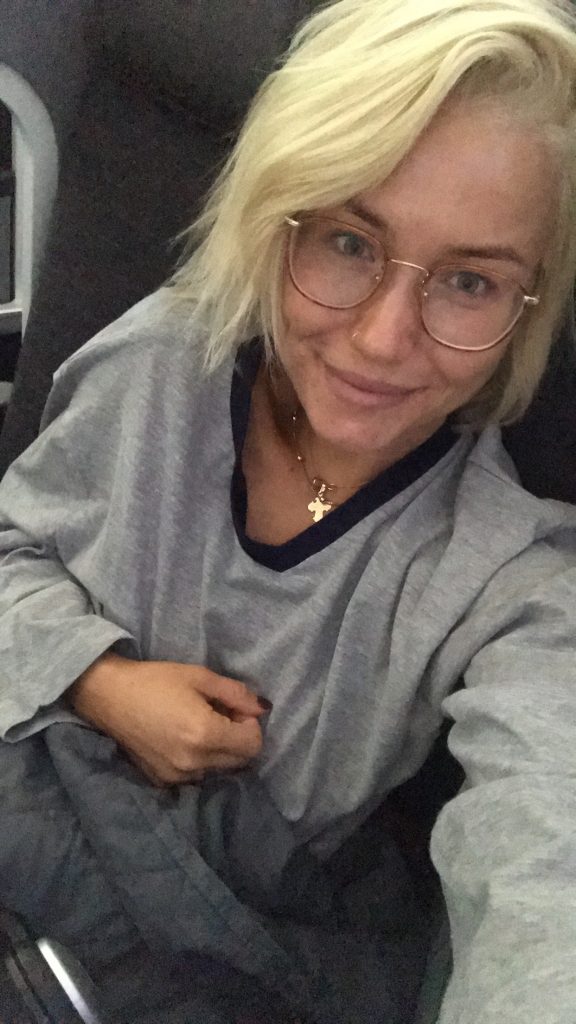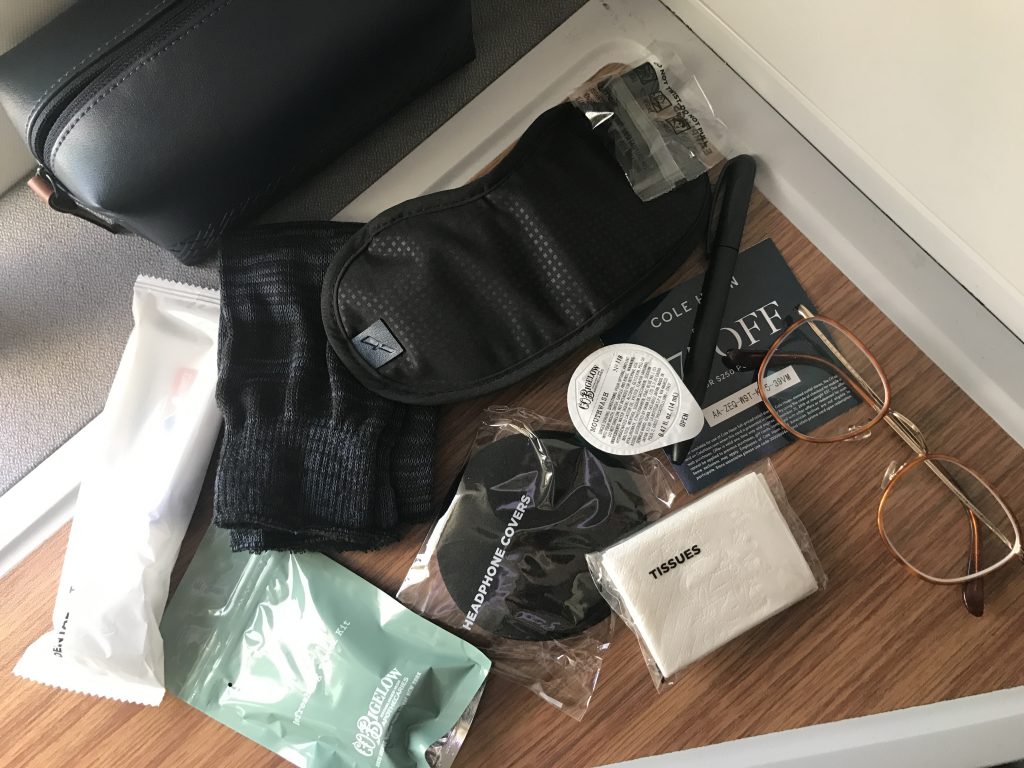 I'm not a huge movie-watcher, however there is a large screen to watch all the entertainment your heart desire including the newest releases of films and series.
You also get a pair of Bose noise-cancelling headphones so you can watch in privacy and comfort of your own seat.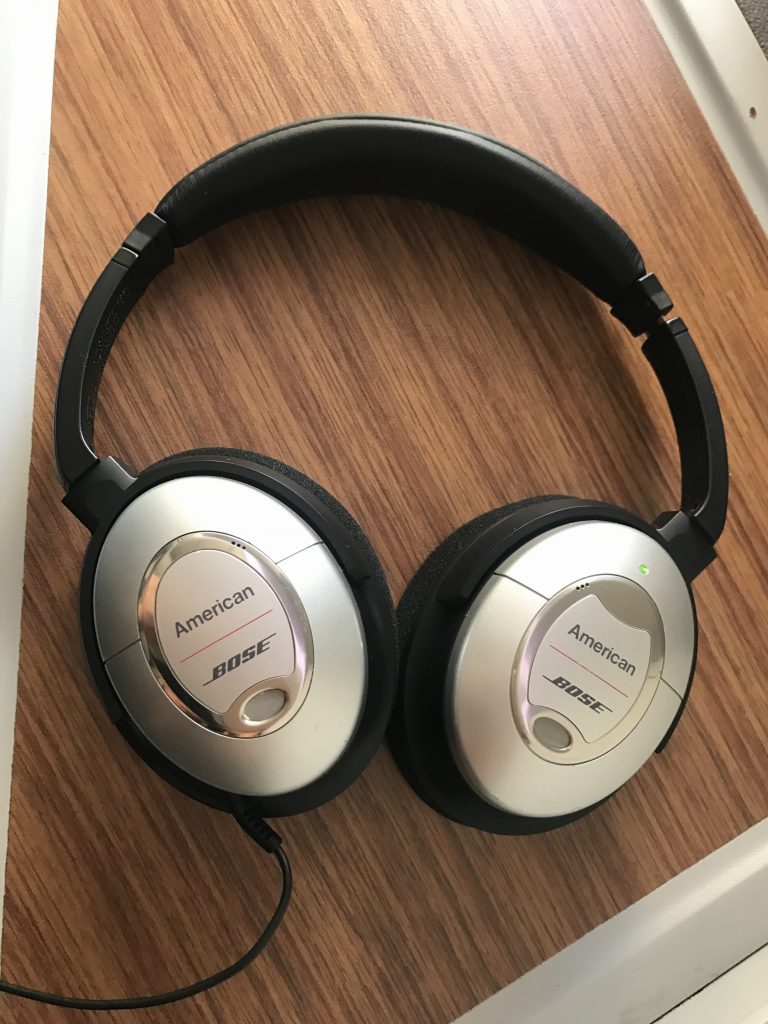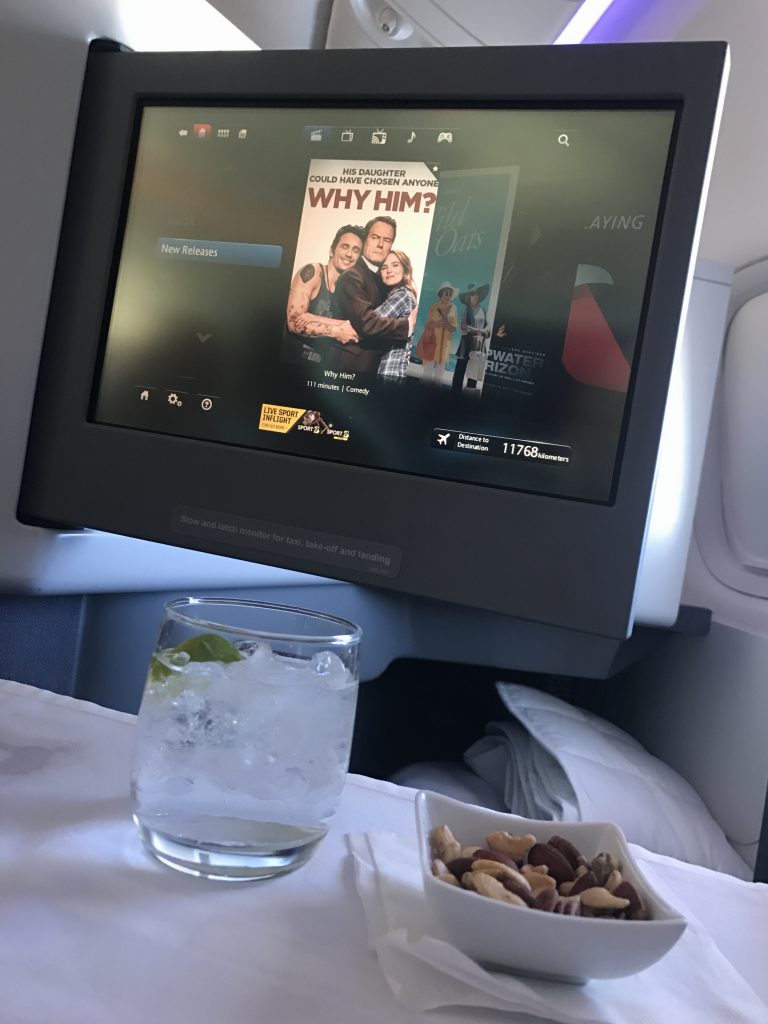 I was very excited to fly business class on American Airlines' 777-300er and overall it lived up to my expectations. A fine international product, with decent food, good entertainment and a very comfortable seat/bed.
Thanks for getting me to LA safe and sound, AA.
Fingers crossed I am lucky to get an upgrade on the way home, too!
Caroline x