I often get asked what my day on a plate looks like, and it just so happened Vitasoy wanted to know too, so what better time to finally share it with you than the now.
Truth be told, my days are often very similar and the food I eat is incredibly simple.  But it all stems from the same foundation; nutritious and wholesome food that serves my body to it's fullest so it can operate to it's maximum.
I like to focus more on a plant-based diet as I'm a huge lover of greens. Take my broccoli away from me and I will go mental! However, I do supplement it with eggs (in the morning) and either fish or tempeh for lunch and dinner. I rarely eat meat or chicken, but I'm not opposed to it. Sometimes I do have full vegetarian days – these are my lazy days when I can't be bothered cooking.
I've always had milk or dairy products in my diet, and I still very much do eat yoghurt, but I tend to lean towards nut milks for everyday use in my food and coffee. Which is why it's even better that Vitasoy asked me to try out their plant-based milks, coconut & almond and incorporating them into my daily diet.
I love that plant-based milks are becoming more and more of a common thing in our everyday lives and I love seeing how people incorporate them into their diet. I use nut-milks every single day. Normally, I'll have a bulletproof coffee or an almond milk latte to start my day off with, then I use coconut or almond milk on my oatmeal or in my scrambled eggs, and drink tea throughout the day with added almond milk. I like the unsweetened versions so I avoid all the added sugars and I can easily sweeten it to my taste with ether stevia or honey.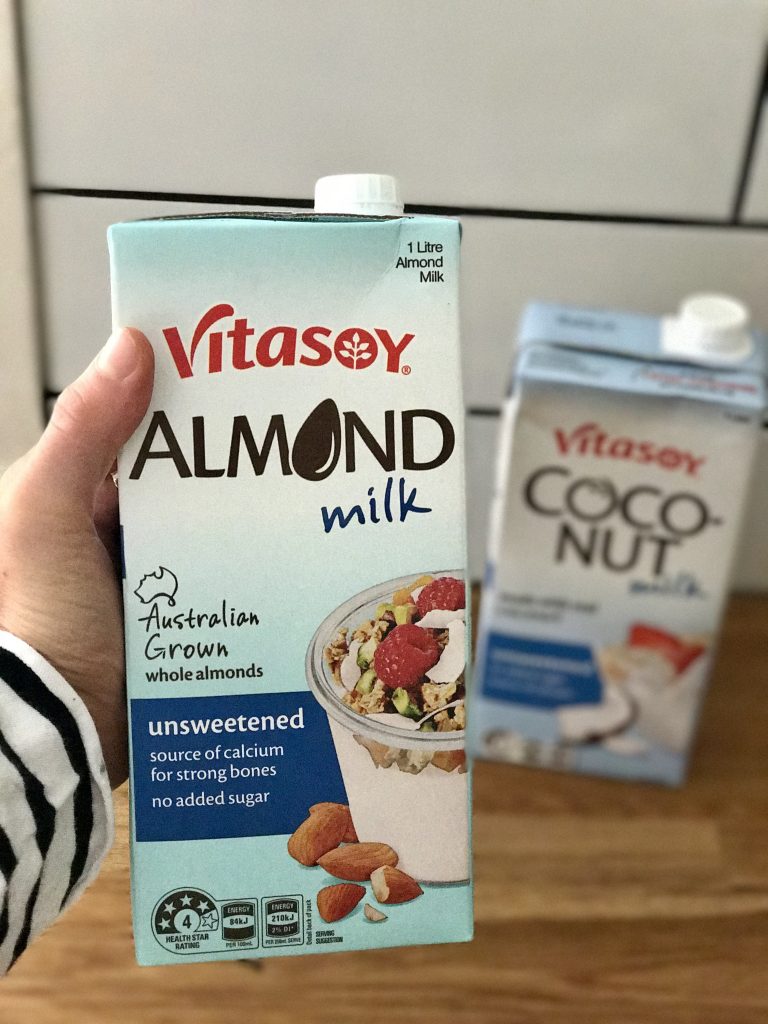 I love that Vitasoy Almond & Coconut Milks are naturally free from gluten and lactose, they have no artificial colours or preservatives and are both vegetarian and vegan-friendly. And bonus points as they're super easy to grab when you're doing your usual supermarket-run.
To give you a little snippet, here's what I eat throughout a normal day:
Breakfast:
Let me introduce to you; The Spinach & Banana Oatmeal! Despite the name, you can't taste the spinach. It gives me a boost of fibre, and vitamins with this concoction – I cook it with Vitasoy Almond Milk but Coconut Milk could do, too.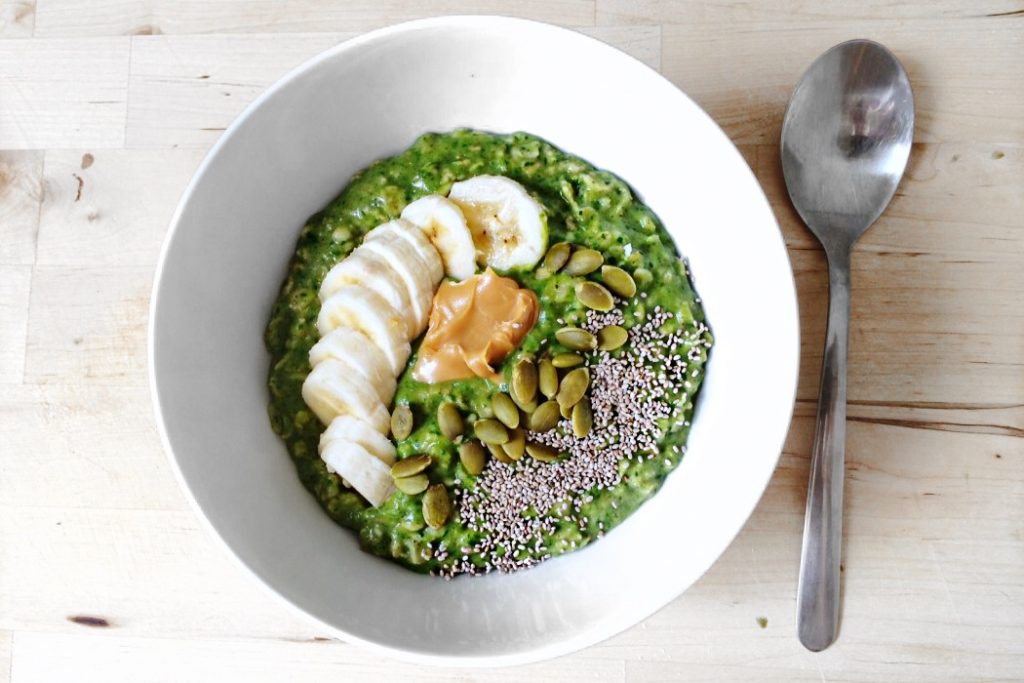 Ingredients:
1/2 cup rolled oats (gluten-free)
3/4 cup Vitasoy Unsweetened Almond Milk
1 big handful of baby spinach
3/4 banana
1 tsp nut butter
1 tsp cinnamon
Toppings: Pepitas, leftover banana, chia seeds & a dollop of nut butter.
Directions:
Combine oats, almond milk and cinnamon in a  saucepan over a medium heat. Cook until the oats have reached your preferred consistency (approximately 5 minutes)
While the oats are cooking, combine spinach, nut butter, banana and a dash of almond milk in a food processor and pulse until smooth.
Combine the spinach mixture with the oats and stir well.
Top with chia seeds, remaining banana, pepitas and nut butter.
Lunch:
Lunch will be heavily plant-based and often I keep it at just that, or add a few eggs.
I will chop up a few non-starchy vegetables (zucchini, cauliflower, brussels sprouts & snow peas), but this time I'll add a few more raw greens. I'll put the stir fried or steamed veggies on a bed of rocket with parsley and coriander. A drizzle of olive oil and coconut oil, salt and pepper and again, a large serving of cultured vegetables.
Or, if I'm on the go for meetings and working, I'll opt for a salad with some good fats like avocado and coldpressed olive oil.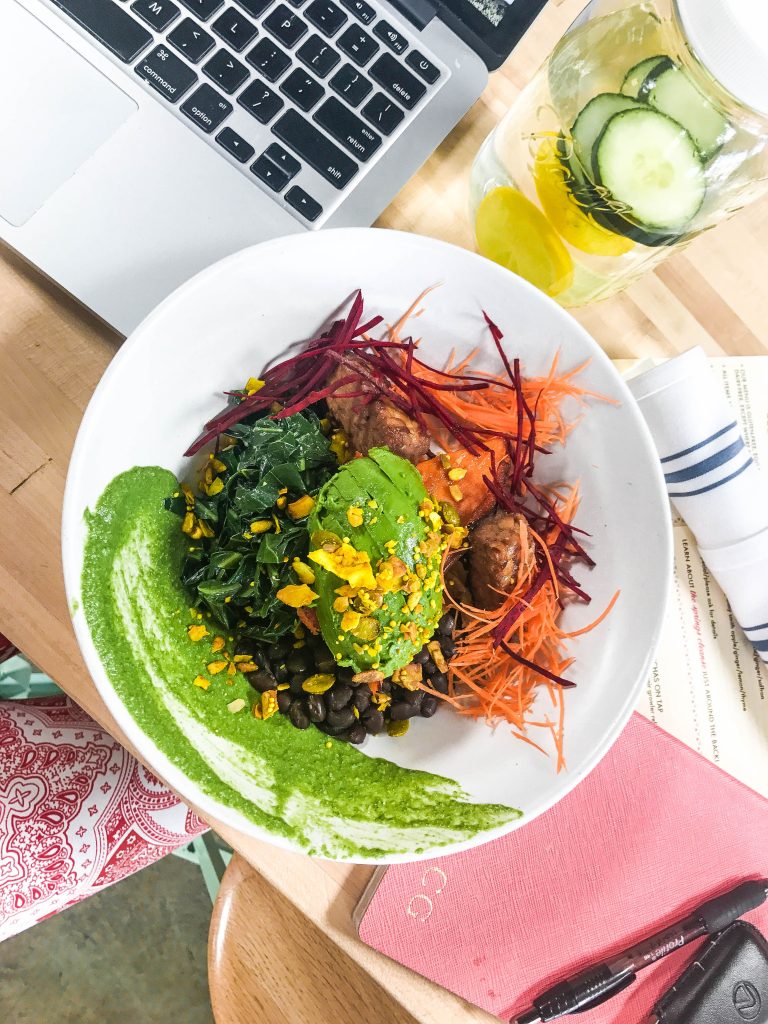 Dinner:
Dinner will be a lighter salad made of rocket, onions, avocado, and almonds served with a large piece of sustainably farmed salmon with skin. Delicious!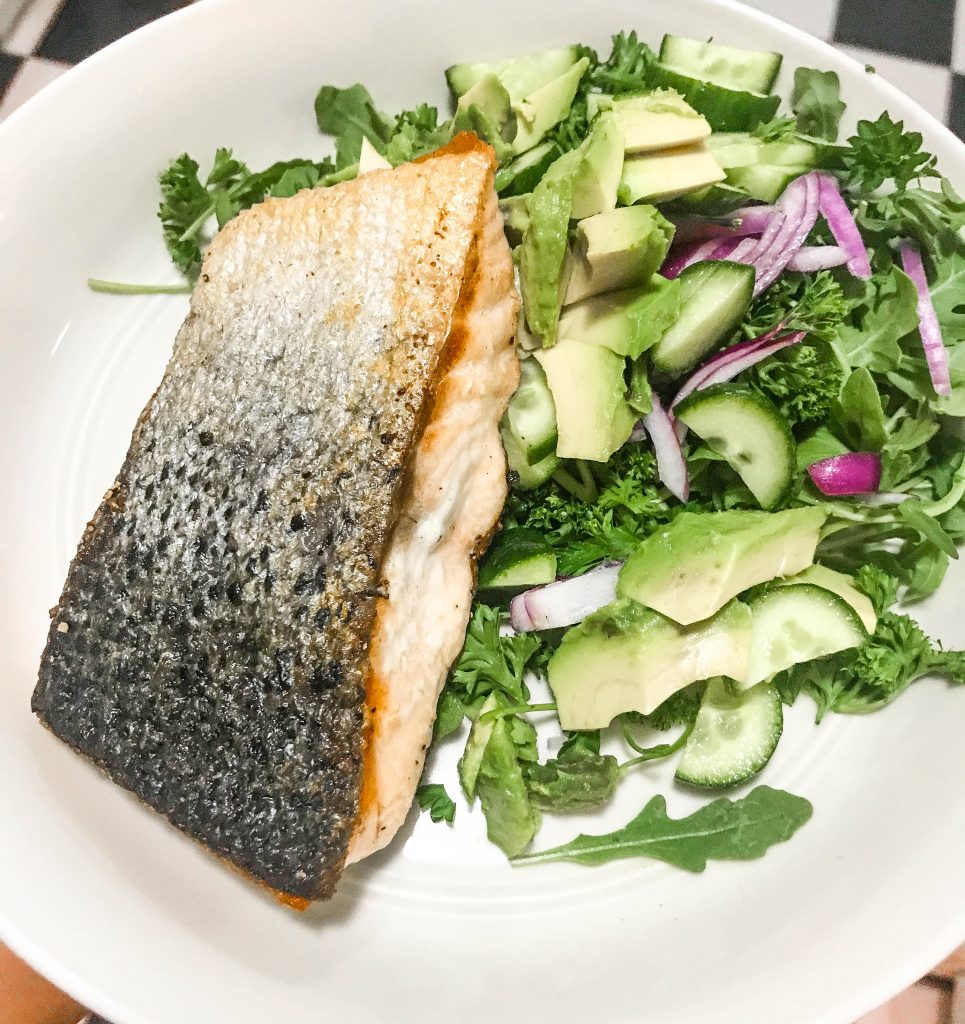 Snacks:
I snack throughout the day. I love a good, green smoothie.
– 1 banana
– 1 cup Vitasoy Coconut Milk
– 1/2 cup frozen raspberries
– 1 tsp Spirulina
– 1 tsp Maca powder
– Handful spinach leaves
– Handful kale (remove stalks)
– 3 dates
– Blend it all and drink instantly.
Other snacks include; raw bars, almonds, organic dark chocolate (sweetened with stevia) and nut butters like almond, cashew or brazil nuts
What does your day look like?
Caroline xx