Fancy yoga? Fancy good tunes?
Perfect, then this is for you!
Gone are the days where any form of exercise is limited to the old school yoga, pilates or your favourite step-class – boundaries are made to be broken, and that's where Hilton LivingWell club comes in.
Hilton LivingWell has morphed together yoga and music and born was; YOGA VIBES!
A new incentive that sees LivingWell members or non-members come together to the love of yoga & tunes and practice this beautiful form of exercise and expression for 90 minutes all whilst listening and flowing to a set of delightful tunes put on by a live DJ.
Do I have your interest? Great, keep on reading for my experience below.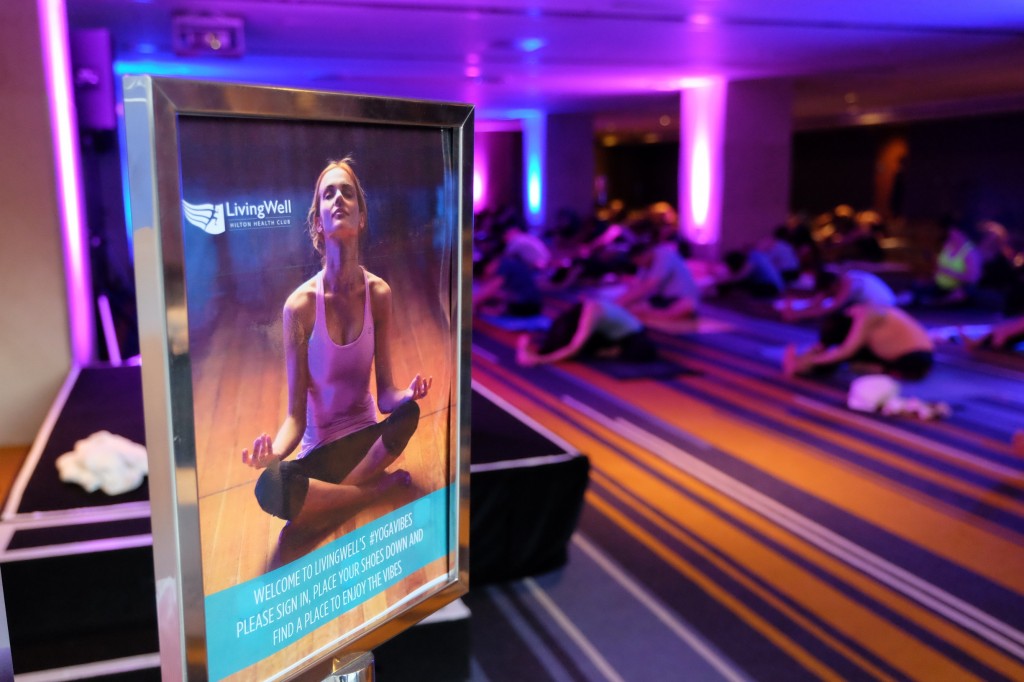 So, last week I was invited along as a 'special guest' to Hilton LivingWell's very first Yoga Vibes event.
Instantly I was greeted by smiles and warm energy from people who are really passionate about helping Australian's become healthier and happier – mentally and physically.
There are 3 platforms – each single platform 'managed' by a LivingWell yoga teacher taking us through different flows all the while DJ Nancy is spinning out tunes that imitate the pace of these flows.
So, you may now think; "well, I've never practiced yoga before" – That's okay – each teacher will be giving you easier or more difficult options depending on your level of yogi'ness. No sweat! (Besides from what's dripping from you onto the floor!)
The thing I love most about events like these is all the different energies people are bringing to a room. Everyone is open to meeting new people, coming together over a practice that we love and respect, moving freely and feeling each other – when I say 'feel each other' I'm talking about each other's aura's and energies. It's amazing, and something you will have to experience yourself before you can fully understand.
Hilton LivingWell is putting on many more of these events moving forward, and hopefully I can attend the next one again because I truly adore and love meeting so many likeminded people who enjoy this form of practice that is so vital to my health and happiness on a personal level.
For more info on the next Yoga Vibes event keep an eye out on Hilton LivingWell's website 's
See you in downward dog.
Caroline x