Did you know?
– The Average woman will use more than 12.000 tampons in her lifetime?
– When using conventional tampons you are left with chemically treated fibres inside of you when removing the tampon?
– Most tampons contains Viscose, Rayon and Synthetics?
I'm sure most women don't know. I certainly didn't and I consider myself an intelligent, smart and knowledgable woman who likes to take care of my body.
The worst part is, that even though we live in 2016, it still seems to be slightly 'tabu' to talk about tampons, liners and womens menstrual cycle. Why? It's the most natural thing in the world, just like a child's birth or a broken leg.
I'm a very luck woman to have close & caring friends. One of those are Sarah. I met Sarah through a friend of mine and we instantly connected. Sarah also happens to be the Social & Community Manager for Tom Organic  which is an Australian Company creating Certified Organic Feminine Hygiene Products.
I was gifted some tampons and liners from Tom Organic and at this point in my life my, I wasn't having a regular period due to past illness, continuous medicine and being underweight. In the past I have always suffered from extreme period pains. It runs in my family. Try having a mum, an older sister and me – 3 girls – ALL having their period, with cramps, unable to go to school or work, because of the pain. All I can say now is; POOR STEPDAD!
However, when I started using Toms I noticed (when I would get my period), with time, my pains and cramps significantly minimising.
There would be less pain, less cramps, a more steady blood-flow and, in time, my menstrual cycle also became more regular through periods – and I truly, and wholeheartedly believe, that this is because I started using Tom Organic tampons and liners instead of conventional supermarket brands that are full of toxins and chemicals.
Here's a bit more about Tom Organic and WHY it's important to take care of our bodies on the inside, and NOT just through food.
"Many of us are quick to read the ingredient list on the foods we buy, yet we don't often think about what is in the products we use on our bodies.
It may come as a surprise to learn that most feminine hygiene products are made from synthetics like rayon and polyester, and that the cotton has been grown using pesticides.

TOM products are unique in that they're made from pure organic cotton. They're softer, breathable and more gentle on the skin, which is important given pads and tampons come into direct contact with one of the most absorbent, delicate parts of a woman's body.
Organic tampons and pads decompose much faster than conventional products. Plus, organic cotton ensures we're keeping synthetic pesticides, chemicals and genetically modified materials out of the air, water and soil."

So isn't it time to love yourself enough to take care of such an intimate and feminine area? I think so! #BossLady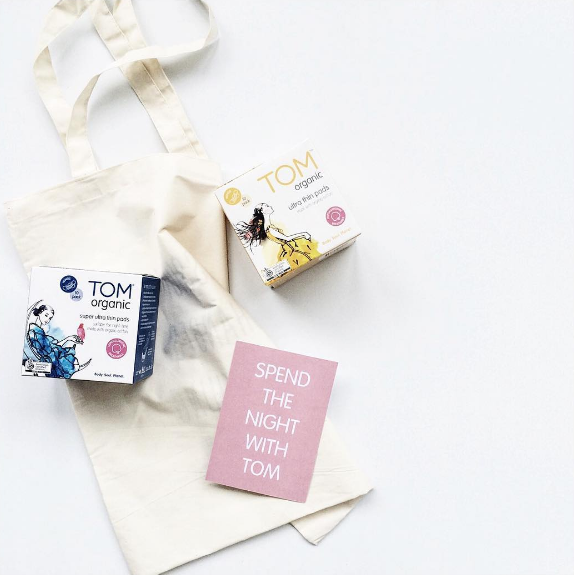 – Love Caroline xx
*This is NOT a sponsored article, simply what I believe in and use myself.