Hemp.. A word that, more often than not, has had negative connotations associated to it throughout the years.
Hemp is, in fact, so much more than just a plant. While it may look like marijuana, the hemp plant is actually a different specie of cannabis and contains very little of the active ingredient, THC – or delta-9-tetrahydrocannabinol – that gives marijuana its reputation. And the hemp seeds, loaded with healthy fats, protein and essential nutrients, offer a number of benefits and make a healthful addition to your diet.
If you're looking for a vegetarian source of omega-3 fatty acids, hemp seeds make a good choice.
Omega-3 fatty acids are essential fats that help reduce inflammation, and incorporating more into your daily diet, may help to reduce your risk of heart disease.
They may also help lower cholesterol and blood pressure, if you suffer from this.
Omega-3 fatty acids are found in concentrated amounts in the brain, and plays an important role in helping memory and cognition.
When Hemp seeds are made into protein, it's actually an incredibly high-fibre supplement to add to your diet, especially if you're a vegan.
It's considered to be a superior protein source due to its above-average digestibility, which also makes it ideal for athletes. If you want more persuasion, additional benefits of hemp protein include potential immune enhancing and anti-fatigue properties, as well as kidney-protective effects.
It also contains:
– High levels of arginine, which has anti-inflammatory advantagess
– Hemp seeds are great sources of Vitamin E and B, calcium, magnesium, iron, and zinc
– Over 30% fat – hemp seeds contain exceptional amounts of two essential fatty acids (Omega 3 & Omega 6)
– Again, arginine, to lower blood pressure which can lower risk for heart disease and/or stroke.
– Oils present in hemp seed that is able to penetrate the innermost layers of the skin in order to promote the growth of more skin cells, alleviating dryness and leading to smoother, healthier skin due to its polyunsaturated fatty acids (PUFA), omega-3 and omega-6.
– High levels of protein: a mere 30 grams of this seed can provide about 11 grams of protein, which constitutes nearly 25% of its total calories.
– Gamma-linolenic acid which produces a hormone that can reduce the symptomatic effects of prolactin, which is notoriously known as premenstrual syndrome.
– The THC in hemp seeds, although very minimal, is seen to be having possible beneficial effect on cancer due to its supposed inhibition of tumor cell proliferation.
Need I say more?
Hemp is now also FINALLY legalised in Australia, meaning we can all integrate this beautiful natural seed into our lives and diet in multiple ways.
Hemple is a Bondi-born & bred brand that focuses on all the good things in life; health, nutrition and being the very best version of yourself!
They're big supporters of the hemp-protein, because, they themselves, have cultivated and praised this seed for years, integrating it into their own lifestyles and want to share the benefits with the community and the world – a business I'm 110% supportive of, always!
As most of you know, I've lived in Bondi for over 7 years, and it truly is where my heart belongs. Working together with a brand that are brothers and friends of some of my closest friends is something that makes my burst full of love and gratitude. I absolutely love and adore being able to support local businesses, especially when they're trying to spread a vital and important message around, not only nutritional and physical health, but also mental health.
Hemp isn't only good for the body in it's physical form and ability, it's also incredibly strong and powerful when it feeds the brain and emotions. I've, for a long time, taken CBD-oil for my anxiety and it has helped me tremendously. I also put the oil on my breakouts, and when I get a bit of eczema during the colder winter-periods.
It truly is a magical seed, and if you don't have it in your life already, I suggest you order online ASAP!
Incorporating Hemple into your diet:
I wanted to share a very simple and easy way to incorporate Hemple and it's protein into your diet – a fool-proof recipe that we can all whip up super easy & quickly – it even has anti-inflammatory benefits, and it's perfect for a hot summer morning when you just feel like something cold that will fill your tummy up in the very best way!
Ingredients:
– 1 cup frozen fruit (mango, banana, pineapple, papaya)
– 1 handful fresh spinach
– 1 handful icecubes
– 3 tbsp RAW HEMPLE Protein
– 1 tbsp coconut yoghurt
– 1/4 cup bone broth
– 1 tsp macadamia butter
– 1 tbsp pepitas
– 1 tsbp flax seeds
– 1/4 cup coconut milk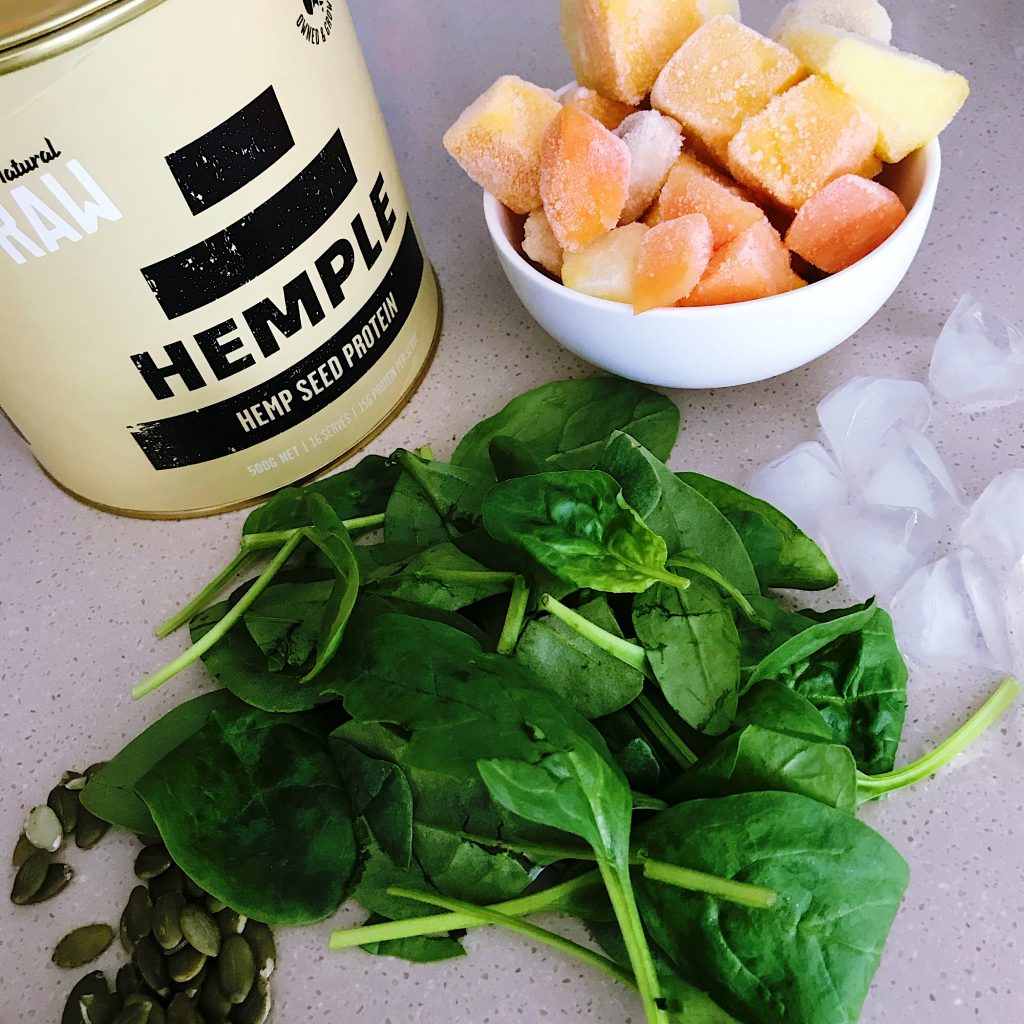 Method:
Blend it all in a blender, and pour into glass. Decorate with a few berries for sweetness, a few extra pepitas, a dollop of nut-butter and a sprinkle of Hemple protein on top. Serve straight away or leave in fridge for up to 2 days.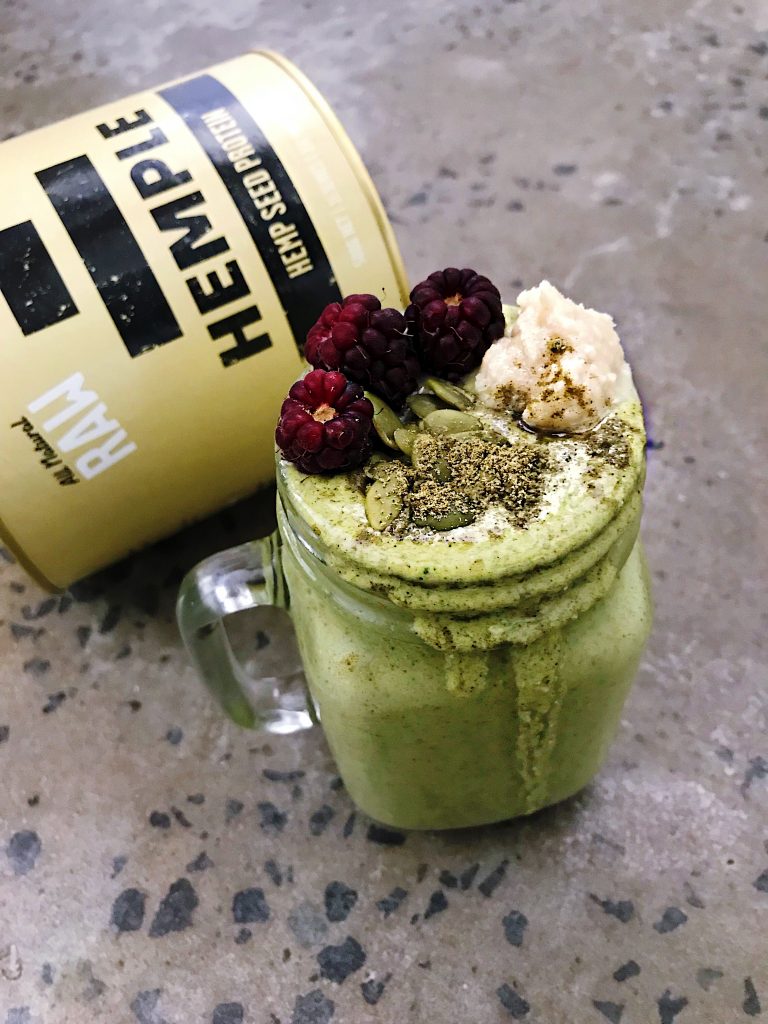 Hope you love it as much as I do!
Cx
*Find more of my healthy recipes here.