Wasn't it just last years Christmas like a minute ago? Time flies when you're having fun!
You know what's also fun? Brushing your teeth with an electric toothbrush that's so sparkly and beautiful it makes you feel like a million dollars!
.. well, now you can!
Oral-B GENIUS 9000 Rose Gold Electric Toothbrush, the world's smartest toothbrush, now comes in a trendy new rose gold hue. The brush combines position detection technology and a whitening mode with a dentist-inspired 3D whitening round brush-head, to achieve whiter teeth from the get-go.
The position detection technology is designed to sense and recognise areas of the mouth that are being cleaned via sensors built into the brush, so you never miss a zone (in your mouth), including those areas that are most often overlooked.
The whitening round brush-head has a unique polishing cup to help polish away surface stains for a whiter smile plus you can also use the floss action brush head (shown) to make sure you are giving your teeth the complete treatment. The brushing system connects via Bluetooth to the Oral-B App (downloadable via the App. Store) which offers up to five dental care journeys through your smartphone.
The result? Healthier gums, by removing surface bacteria found in your mouth! Not only this, but the toothbrush helps you protect your delicate gums with the proprietary SmartRing and Pressure Control technology that reduces brushing speed and alerts you to be gentler if you brush too hard.
Last but not least, Oral-B GENIUS 9000 Rose Gold comes with a lithium-ion battery that lasts up to 12 days with 1 charge (winning!) and it even comes with a beautiful travel-case that holds the shaft itself + 2 brush-heads PLUS a charger that plugs into the travel-case. I mean, come on, toothbrush-luxury anyone?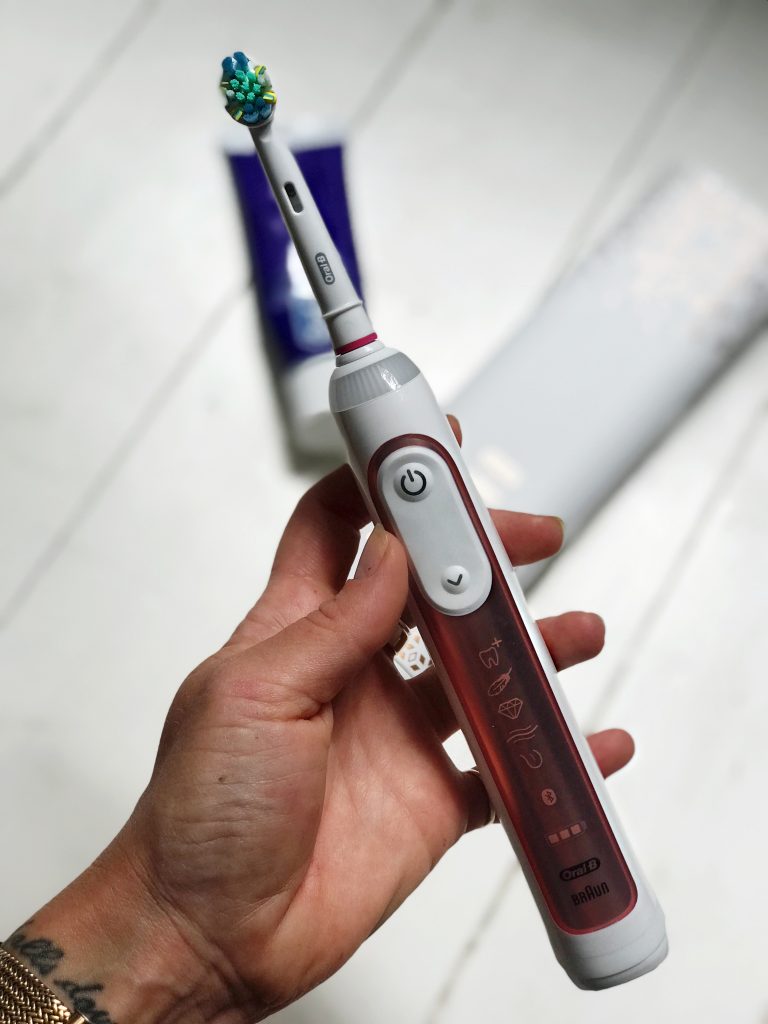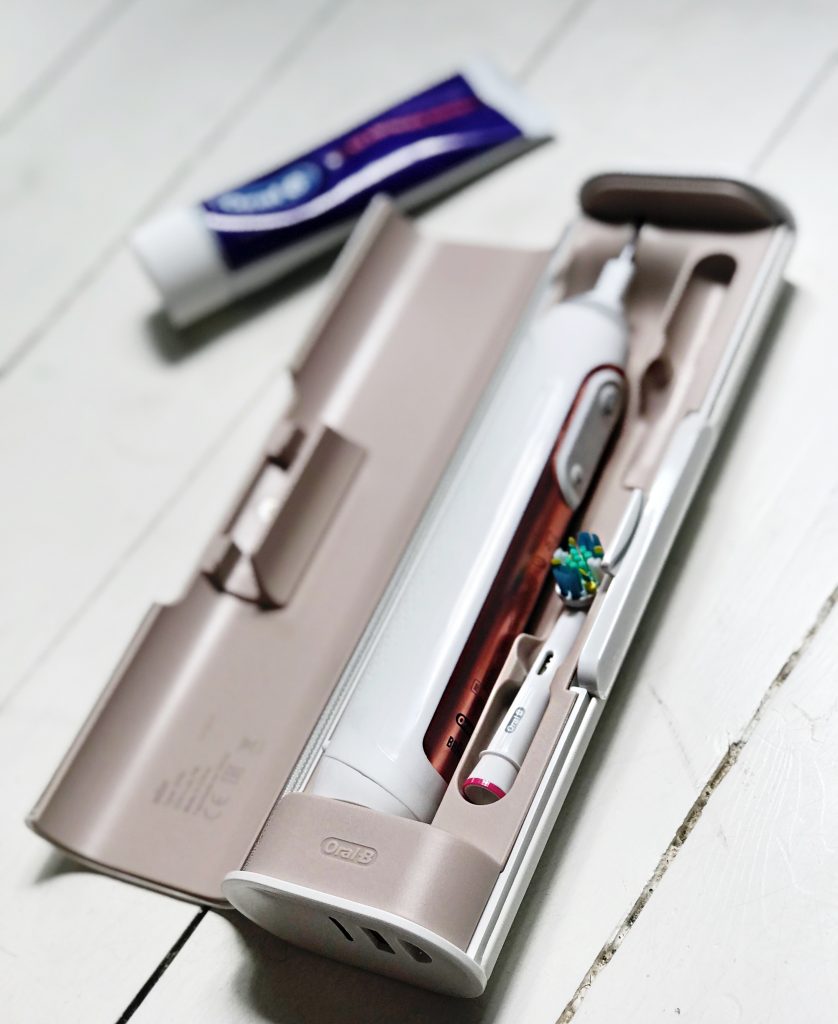 My experience with the Oral-B GENIUS 9000 Rose Gold Electric Toothbrush:
I grew up using an Oral-B Electric Toothbrush. It was the best thing in the house. My sister and I got to pick our coloured rings to put on our very own toothbrush – I always chose pink, and apparently still do to this day – making brushing teeth incredibly fun growing up. Touchè mum & dad!
Brushing teeth isn't the funnest thing in the world, albeit probably one of the most important things to do, however.
I've always been lucky to have very great teeth growing up, although I also took pride in the cleaning-routine I had for my teeth and gums, and never missed a dentist-appointment or brushing my teeth.
I never had a cavity until I turned 20, never had braces, never had anything go wrong… Until I got a bit older (25) and my teeth started taking a toll due to sickness. All of this resulted in me getting my upper teeth veneered 6 months ago, and getting invisalign on my bottom teeth.
Even more so now, it's important for me to keep my teeth ultra-clean along with my gum I'm a very 'hard'-brusher, and normally need to buy a new toothbrush every 3 weeks..
What I love about the Oral-B GENIUS 9000 Rose Gold is the fact, that when I press the handle too hard, it lights up in red and tells me to 'back off' – basically.. Very simple, but incredibly useful! Most of us use too much 'power' when we brush our teeth, and all we need to do is hold the electric toothbrush and it'll do the rest of the work for you!
It also has 5 settings, including; Daily Clean, Deep Clean, Whitening, Massage, Sensitive and Tongue Cleaning.
AND, this may be the coolest feature and what sets it apart form anything else; when you connect to your smartphone with the Oral-B app it shows you where you brush and guides you to cover all areas of your mouth for a thorough clean!
There's a reason why Oral-B is recommended by dentists all over the world. It's both effective and FUN brushing your teeth.
It's the perfect Christmas Gift this year, because there's nothing better than giving a gift that can contribute to your overall health.

Your smile is your best business-card.
Merry Christmas,
Caroline xx